A post-mortem examination of the body of 90-year-old Millicent Prince-Cummings yesterday revealed that she sustained blunt trauma to the head and was also sexually assaulted, Crime Chief Seelall Persaud said.
Persaud told Stabroek News yesterday that no one has yet been arrested and that police are pursuing several lines of inquiry. He said that a condom packet was found near the woman's body but he could not say conclusively that it connected to the crime. He said the condom packet was taken to the crime lab for processing.
According to Persaud, investigators are looking to see if drug addicts in the area may have been responsible for the murder. He said however that he "didn't know that junkies walked around with condoms".
He said the police only began looking at this line of inquiry after it was confirmed that the elderly woman had been raped and as such investigators have not arrested any of those persons.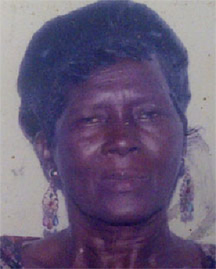 The bloody remains of the mother of one were found beneath an abandoned house on public road at Cove and John, East Coast Demerara, a short distance from where she lived. A man who lived in a back house made the gruesome discovery around 05:30 hrs as he was walking though the yard on his way to work. Prince-Cummings's body was nude from her waist down and her head was badly battered leaving investigators to suspect that she had been beaten and raped.
Relatives had said that the elderly woman regularly took walks. They said that she was heading in the direction of Victoria and could have been attacked as she passed the abandoned house. It is believed that she was dragged beneath the building which is located next to a cemetery.
Over the weekend, relatives said that police are conducting a sloppy investigation after no tracker dog was used by ranks who only made attempts to speak to neighbours more than 24 hours after the crime was committed.
The persons living in the back house including the man who made the discovery were detained for several hours and released.
Neighbours did not recall hearing any unusual sounds prior to the discovery.
Around the Web