Taxi service owner and former president of the George-town Dominoes Federation Orin Joseph was shot and killed late Sunday night, a stone's throw away from his home during an apparent armed robbery.
Joseph, who according to Crime Chief Seelall Persaud sustained a single gunshot wound to the abdomen, died while receiving treatment at the Georgetown Public Hospital. Gold jewellery that the 52-year-old father of five was wearing is missing. According to reports, he was accosted as he approached his car which was parked a short distance from his home at Lot 1223 Gaulin Place, South Ruimveldt.
Persaud, when contacted, told Stabroek News that the shooting occurred around 23:40 hours shortly after a dominoes competition that was held at his home had ended. He said that a blackout in the area brought the competition to an end.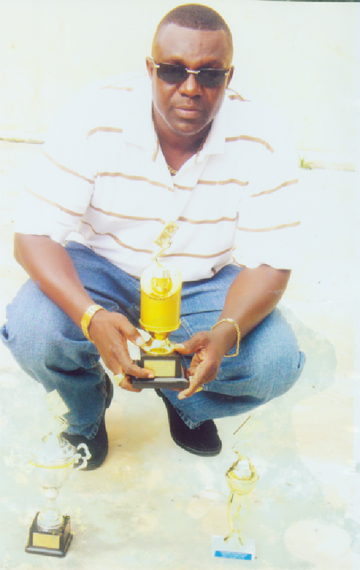 Based on what the crime chief told Stabroek News, the darkness coupled with the fact that there were no eyewitnesses has resulted in there being very few clues about the person/s who committed the act.
A resident of the area said that the crime was committed by two men on a CG motorcycle. One of them was wearing a white t-shirt. One man recalled seeing the men speeding pass him but at the time did not realise that they had just committed a robbery. This newspaper understands too that because of the darkness, the persons could not see the features of the duo or the licence plate number of the motorcycle.
When later asked about the motive, Persaud said that even though there are reports that jewellery was taken, police are still looking into the man's background which could give several lines of inquiry.
Relatives and friends flocked the man's home as news of his death spread. When Stabroek News arrived his wife Faye was being comforted. Investigators had earlier visited the scene and were seen searching. However it is unclear if they recovered any spent shells.
A teary-eyed Faye who is the current president of the Georgetown Dominoes Federation said that on Sunday night they held a dominoes tournament. Based on what she said such events are held under the house next door where cars belonging to the Sius Taxi Service are usually parked.
The distraught woman recalled that earlier her husband had driven the cars out of the yard and parked them a short distance away. She said that after the event was over the area was hit by a blackout.
She recalled that after that her husband put on the "house generator" and then started putting back the cars. Faye recalled that she was in the house when she heard about three gunshots. "When I hear the gunshots, I seh is wha really goin on because I know that he leave to go out there…," she said adding that a relative was among the persons who ran out of the yard to inquire what was happening. She said her husband was calling for her to help him. "'Faye, Faye! Ow baby! Help! Help!' he called," she said.
She told Stabroek News that she found him lying on a neighbour's bridge. It appeared as though the man had already made his way to one of the cars as the door of the one he was found nearest to was open and the inside lights were on. He had apparently tried to escape from his attackers.
Faye stated that with the help of an off-duty policeman he was rushed to the hospital. She said that based on what she saw he sustained a single gunshot to his side but later, on checking his clothing, she found that he had several bullet holes in his pants. His arms were also bruised.
The woman noted that her husband was the victim of a robbery as his gold band and two rings were missing. She recalled that her husband was the victim of a robbery several years ago.
Robberies a regular thing
Meanwhile Faye told Stabroek News that robberies are a common occurrence in the area. One resident said that most of the robbers are after cellphones.
Asked about police response time, Faye said she shouted out to a policeman who lives next door and he came out and assisted.
Breaking down in tears, the woman called on police investigators to do all in their power to catch the killers. "Please do all in your power to catch my husband's killers. He doesn't deserve this, he doesn't deserve this…he was a good person," she sobbed.
The woman said that she would remember her husband as a jovial person.
Investigations are continuing.
Around the Web