The St Francis Community Developers received a donation valued over $5 million from Food for the Poor (Guyana) and Metro Office and Computer Supplies recently.
The gift includes a photocopying machine capable of colour reproduction valued $3million, two mechanical tillers, two water pumps, several kitchen garden tool sets, and musical instruments. The music gear includes drums, pianos, flutes, saxophones, trumpets and will be used to set up the Berbice Music School.
At a presentation ceremony held at the Food for the Poor headquarters, Project Coordinator Andrea Benjamin said the charity wants to revive the tradition of creating beautiful and classical instrumental music.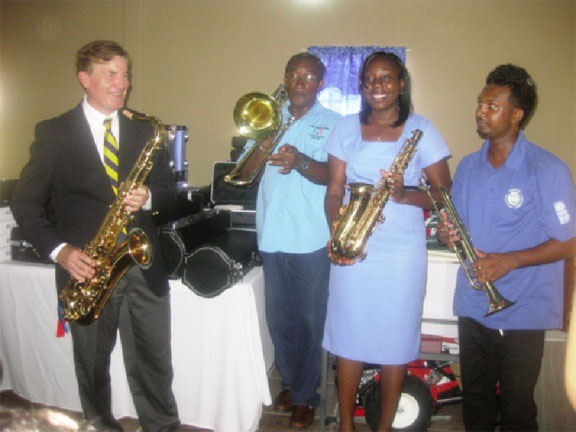 Benjamin also hoped that the tools will be utilised by residents to start up kitchen gardens that will help to provide healthy food for their families and sustain their livelihoods.
In her address at the ceremony, Metro Berbice Manager Avia Lindie said the donation was made possible by CEO of Metro Ron Ramnarine. She said that the company is pleased to provide the growing organisation with such equipment as it would help in its service to the community.
St Francis President Alex Foster said the group will be opening the first music school in Berbice sometime in the near future.
In further outlining St Francis's plans, Foster said it is finalising plans for instructors from the Guyana Police Force to be given permission to come to Berbice and conduct sessions. Foster said this project is being done jointly by St Francis and the police force.
He also revealed that the agriculture equipment will be used on the model farm that is being set up at Limlair, Corentyne.
Foster thanked the donors for their contributions; saying that it will enable St Francis to deliver a high quality of service to the community.
US Ambassador D Brent Hardt applauded St Francis for the venture it has embarked on. He urged the staff to continue delivering a high quality of service to the community.
Around the Web