Residents of several Deep South Rupununi, Region Nine villages yesterday staged a protest at Lethem after boycotting the Guyana Geology and Mines Commis-sion (GGMC) land lottery and vowed to move to the courts to block the allocations.
"We ain't giving up no mountain… We ain't giving up no river that belong to we," the protestors, some dressed in traditional Amerindian wear, sang from the Dave Martins song "Not a Blade o' Grass" as they stood on the protest line, a short distance from the Lethem Airstrip yesterday.
They also held placards, which read 'We need what rightfully belongs to us', 'Is giving away Amerindian lands part of the LCDS plan?' and 'Respect Indigenous Rights,' among other slogans.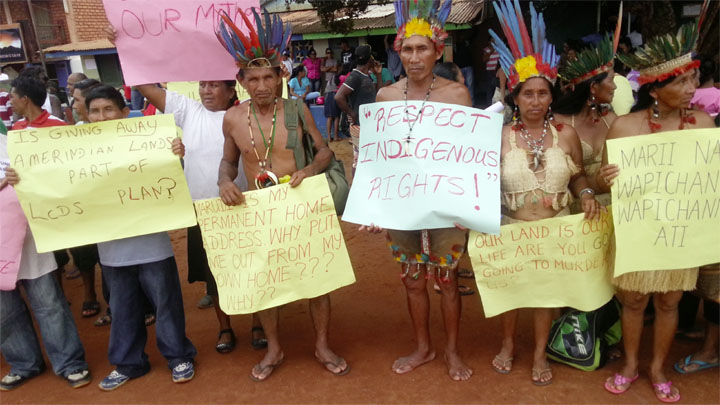 The residents, who came from Awarewanawa, Shea, Karaudar, Aishalton, Marudi, Maruranawa and Annai to Lethem, told Stabroek News that the decision to protest was taken because several of the problems they face pertaining to mining were not being addressed and they are not consulted on land allocation although they are most affected by mining.
On Thursday, the Ministry of the Natural Resources and the Environment said there were attempts to misrepresent the lottery and it emphasised that the blocks of land up for distribution in Region Nine were not within Amerindian titled lands or within areas proposed for extension to titled lands. However, protestors challenged this claim yesterday.
"We are here to protest because we are really vex that lands are being allocated in our areas and we did not have a fair chance to apply because you had to be the owner of mining equipment. We punt. We don't mine large scale. But what is worse is that yesterday when they hear we will protest, the rules change," Laurita McBirney told Stabroek News, speaking in Wapishan, through an interpreter.
Like her, many of the villagers spoke in their native tongues but clearly indicated by signs that they did not want the lands allocated. "I can read that map and some of the parcels they give will run through where we live. What happens when the owners tell our children we can't pass through or we can't fish there anymore," another woman, only known as Greeta, said as she ran her hands over the GGMC map.
Some of the villagers said they had mobilised themselves, with some travelling on foot for two days to get to Lethem to protest. This was after they learnt that that while no one in their villages met the criteria for mining their lands, the GGMC would be holding a lottery at Lethem yesterday.
One of the criteria was that applicants be the owner of registered mining equipment. "When there was the issue with the Marudi miners, we said over and over this Marudi thing didn't start yesterday. It's generations of people going to the mountain for gold. We don't go for ounces and pounds it's to keep our families alive… Work out a plan that they and us can work with. Everybody will be happy. But no, they want to show us they will do what they want with the land, so they have problems not because we will not be trampled on," Kim Anton, of Aishalton, said.
Later in the day, the Ministry of Natural Resources and the Environment said in a press release that a follow-up lottery will be held for those miners who were not eligible. It downplayed the protest and boycott saying that the lottery was objected to by a few individuals. "Following objections by a few individuals to discredit the Special Mining Lottery… the Guyana Geology and Mines Commis-sion has dubbed the lottery exercise as the largest ever in Lethem," the release said.
"The GGMC earlier confirmed 126 allottees out of a total of 290 with most of the interest coming from the Lethem area. As such the Minister of Natural Resources and the Environment… has advised that a follow-up lottery be held for those miners, including Amerindians, who were not eligible at this time, but will be able to participate at a later date through the waiver of the equipment requirement," the statement added.
'Consult us'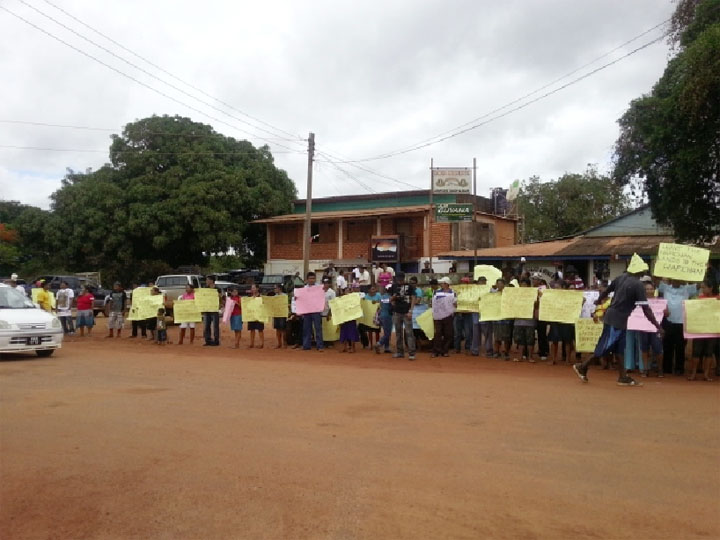 Head of the Aishalton Women's Organisation Dorothy James said they were not interested in having mining lands but protecting the areas around where they live so they are not contaminated from mining. "I don't want to eat corn beef and chicken and sausage and apples and eggs. I want fish and farine and cassava and food I grow on my own land. It is what I am accustomed to. I want to take my children and show them this plant is for diarrhoea and that is for pain or that is for cuts. We want to work the lands," she said.
"There has to be mining we know that but we don't want it near the rivers. Look at the map some of those lands are at the mouth of the river. You don't have to get a big brain to know what that will do to the people. Consult us, we know this area better than any GGMC… We can tell you go here or there, leave those plants there and there, cut here and mine there," she added.
James and other residents of Aishalton informed that they were also protesting against the removal of miners and farmers from the Marudi Mountains. She said while there were some persons mining illegally, this was being done for decades and it is the people of Aishalton that were the major beneficiaries of the mining.
Her husband, Tony James, a former toshao of the community, echoed much of what she said. He lamented that while lands were given up by Romanex to the GGMC this was not a part of the lottery nor were any of the people in Aishalton beneficiaries. "Romanex gave up some of their land. I am sure with the understanding that it was because of the high volume of illegal mining, for the people. Where is that land? That isn't a part of the lottery. No one from anywhere in Lethem got that land," he said.
The toshaos of the villages have retained Attorney Nigel Hughes to represent them. Hughes told this newspaper that in addition to fighting for the rights of the people, he felt compelled to give his services the Region Nine communities because they played a critical role in saving his life. He said he was disgusted at the way the residents were treated and issues pertaining to the abuse of their lands seemed to be falling on deaf ears. "The criteria for the lottery is totally discriminatory, it excluded the people from the South Rupununi… It is one of the worst forms of apartheid I have seen… One day before the lottery you will come and say the criteria is changed? And expect them to meet the deadline? That is one of the greatest perversions. If there are new criteria then there should be a new time to give the people time to prepare. They also have to consult with the people. Consult with the people it is their land to begin with," he said.
Peter Agerella, who said he is a long-time supporter of the PPP/C, explained that he put aside politics to show officials that it is the subsistence of villagers on the line and that they should focus on the issues. "This is not about politics. It's about my children and their children and grandchildren's right to live on the lands they know as theirs. Somebody always tries to drag politics in and yes at the end of the day it's the politicians that decide, but my goodness, put APNU, AFC, PPP aside and listen to us. We have voices too. We want to be heard and have things to tell about this place they don't even know," he said.
Around the Web