An Essequibo teen succumbed while being air dashed to Georgetown yesterday following a motorcycle accident on Saturday night in his home town of Fairfield.
Gibran Wahab died on the plane while being transferred from the Suddie Hospital to the Georgetown Public Hospital (GPH).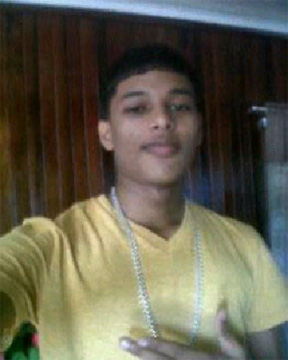 A relative of the young man said that on Saturday evening he was the pillion rider on his friend's motorcycle and wasreturning home around 10pm when the accident occurred. The rider swerved to avoid hitting a dog and lost control of the bike. She said the sudden movement of the bike sent Wahab "flipping over his friend's head" following which he crashed head first into the Fairfield Public Road.
He was rushed to the Suddie Hospital but his family said that there was no doctor on duty and instead they had to go to the  physician's house to alert him to the accident.
However it was not until a long time after and several other calls to the house by relatives that he came to the hospital. "My mother and brother-in-law went to his (Doctor's name given) house to tell him because it was an emergency but he didn't come back with them… somebody had to go and then they call out again. We are not sure of how long it took but there was a long delay at a critical time" the relative said.
When the doctor arrived Wahab was unconscious and relatives were told he had massive head injuries and would have to be transferred to the GPH.
Yesterday morning he left by plane but never made it to the city alive as he succumbed before landing at Ogle Airport.
His mother, Farina Khan, was too distraught to speak but a relative informed this newspaper that he  was preparing to write the CXC examination in June and was a student of a private Muslim school on the Essequibo Coast.
She said that he is survived by four siblings, two boys and two girls.
The rider of the motorcycle was treated for minor abrasions and sent home.
Around the Web