President of the Guyana Women Miners Organisation (GWMO) Simona Broomes is shuttering her mining operation in the Puruni Backdam, where she and other members last Sunday rescued four girls who were being held captive as sex workers.
During the operation, Broomes was verbally and physically abused by the shop owners who were keeping the girls.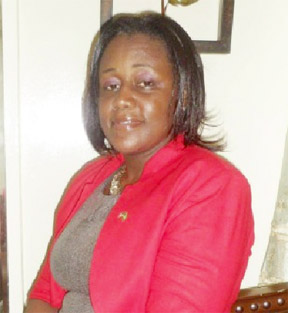 She told Stabroek News that she is now halting both her operation and that of her son, since she does not feel safe following the episode. The two persons who are alleged to have assaulted her remain at large, while a policeman has been charged with trafficking one of the girls.
"Everything—all the equipment has to be packed up and then we have to study to relocate and things like that," Broomes said, while pointing out that it will cost her millions of dollars.
However, she said her financial losses will not deter her from fighting against trafficking in persons (TIP) and other forms of exploitation in the interior and she noted that she is not scared even though she is concerned for her family and they are also concerned about her safety.
Broomes said while there is a perception that she is seeking fame by speaking out on the issue, all she really wants to do is to save the lives of young girls, even if it is at a cost to her. She also pointed out that if she does not make the issues public, those in authority would not act.
She questioned the authorities' seriousness in battling the growing crime, saying that last Sunday's incident highlighted that they are far from being prepared. The lack of any initial efforts to arrest the shop owners left her dissatisfied. She said not only was the couple who kept the girls not arrested, even after they chased after them and had to pass police check points to do so, senior police officers, who could have radioed their juniors to arrest the couple, did not act despite reports. She added that she does not want to become a policewoman and that she and others are only "fighting for the system to do what it is supposed to do."
In addition, Broomes pointed out that the fact that the police officers in the outlying areas do not have transportation at their disposal that the country is not geared to effectively fight human trafficking in the interior.
"You are boasting that so much is being done and when it is time to help the victims, it is not being done… and making it look like [I] have a motive! But my organisation is non-governmental and non-political," she said, while adding that she expects that many persons "would not be friendly" because she has to speak the truth.
"I have to say it as it is and I have to tell it as it is and I think what we are doing is raising a wonderful awareness… because a lot of persons are saying, 'I saw this in movies; I never knew it was happening in our country.' So, it is bringing about a consciousness for Guyanese people, which will help," Broomes said.
'Sickening'
Broomes added that she is sickened by the words of many, including some in positions of authority, who have been making disparaging comments about young women caught in these situations. One such comment is that they knew what they were getting themselves into. "I want people to understand that these are vulnerable little girls," Broomes said, while pointing out that the persons involved in the crimes visit communities and prey on the weak and vulnerable.
One of the four girls rescued, she noted, does not know where her mother is and her father is an alcoholic. Another's mother was given $4,000 by one of the shop owners, who promised her faithfully that she was taking her daughter into the interior to sell clothes.  The third one was living with her sister and at 16 she left and went to live with her 15-year-old friend. "These are the kinds of persons these people prey upon—young girls that nobody miss, nobody cares [if] they disappear, [if] they come back. And when they come back, they dress up and have something to contribute to the home and that is what matters," Broomes observed.
She questioned if anyone would want to go and work in such circumstances, where they have no bargaining power and are ill-treated and whatever they earn from most ly forced sexual encounters is taken away by their unscrupulous employers.
Broomes told of a young woman who had reached out to them after she was burnt across her chest by a man who was angry that she did not want to perform the kinds of sexual acts he demanded. He used a lighter to burn her.
Most of the victims, she noted, are too ashamed to report their exploitation and abuse and are afraid of becoming victimised again by the very system that is supposed to help them. In this regard, she remained critical of the initial treatment meted out by authorities to the four girls who were rescued last week. They were forced to spend the night in the Bartica Police Station as there was no accommodation for them and the police could not spare a rank to be at a private residence where they were offered shelter. The morning after, she said, the girls were not even "provided with a cup of tea and a toothbrush to brush their teeth." It was the GWMO which had to provide transportation for them from Parika and food for them during the day, which they spent giving statements to the police.
Broomes added that the system also failed the girls one week before they were rescued as a fifth girl was badly beaten after she attempted to escape and eventually she was allowed to leave. She said the girl reported her assault to officials of the Guyana Geology and Mines Commission (GGMC), who forwarded the report to the police. According to Broomes, the police told her that they had the report but because of lack of transportation they did not visit the location. Had the police gone to the location, they would have found the other girls and Broomes said the GWMO would not have had to be involved. But the report was ignored and the guilty parties would have been emboldened by the lack of action. There is now no trace of the girl.
'A strong group of
women'
Meanwhile, Broomes said while some may be against what the GWMO does as an organization, others are supporting its work and she was grateful for all the calls of support they have been receiving.
Broomes also paid tribute to the group of women who have been supporting her, while noting that they have the same passion and they are not quitters.
"Behind me I have a strong group of women. And these are not women who feel dragged into something, these are women with a passion for what we do as an organisation," she explained, while adding that more women are clamouring to come on board to fight the human trafficking scourge. "What we hope to do is we want to break that backbone of trafficking in persons. It is something that persons get too comfortable with," she said as she pointed out that it is a reality not only in the interior. She hoped that with more lobbying, the issue could be dealt with nationally.
She recalled that when they first mentioned the human trafficking situation to those in "high places," they were cautioned that it was already being dealt with.
Nevertheless, Broomes said she and the other GWMO members knew what they talking about and what they were going to do. The GWMO has a TIP unit, she explained, and all of the members go into action whenever  a case is found. She revealed that during last Sunday's rescue, by the time she reached the Bartica Police Station, there were members there waiting for them. She mentioned one member, Sharon Fernandes, who was there with money just ready to do what needed to be done. "The ladies in our organization, even their husbands, lots of them support them in what they do… the members are not scared, they are proud that we are carrying out our mandate because when we fight against trafficking, that in itself is an empowerment for young girls," she said.
Broomes noted that while some might want to question the GWMO's mandate to fight against trafficking in persons, its constitution speaks about the issue along with child labour and addressing issues facing the indigenous people. "So this is not something we are differing from our objectives," she explained.
She said some might feel that they would have formed the GWMO just to fight for land in the interior but there is so much more to it, including the abuse of women in the interior that they would have seen over the years until they decided to stand up and say no more, "we would do something."
Around the Web