Minister of Transport Robeson Benn yesterday cautioned residents to be on alert as the high tides that flooded several communities on the East Coast and West Bank of Demerara areas on Sunday are expected to continue until this evening.
"Based on the pattern observed over the past 24 hours, there exists a high likelihood of reoccurrence of overtopping for the remainder of the spring tide period," Benn said yesterday even as a massive cleanup campaign was launched to remove huge amounts of garbage that had accumulated and to clear drains at the Liliendaal canal on the East Coast Demerara and canals at Uitvlugt and Den Amstel on the West Coast Demerara.
Benn explained that the spring tide commenced last Tuesday and has extended to today. He said that the while the maximum predicted high tides were experienced on Friday and there was no overtopping, Sunday's extreme overtopping occurred due to "abnormal" occurrences. "Predictions from the National Oceanic and Atmospheric Administration (NOAA) tide and wave models indicate wave heights ranging from 8 to 9 ft with possible swells along Guyana's coastal region. In general, the prediction from NOAA wave models did not indicate an extremely abnormal wave climate for this spring tide period," he explained.
Given the readings from the hydrometeorological office and that the over swelling was caused by gusty winds, he said that the ministry was "was caught to some extent wrong-footed in terms of the event."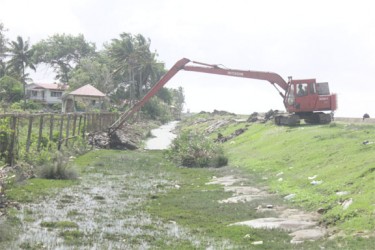 However, he said that there was no need for alarm and panic and that the situation was being closely monitored and managed.
Last evening, saw several workers from the Ministry of Public Works and National Drainage and Irrigation Authority working along the East Coast, from the Celina's Restaurant to the University of Guyana road. Last evening traffic along the East Coast Demerara had to be redirected to the Railway Embankment as the northern half of the Rupert Craig Highway was again flooded.
Stabroek News visited several of the affected communities and even as the water was receding, residents still lamented that although high tides and overtopping were regular occurrences, not much was being done in terms of drainage.
Herman Persaud, foreman of the Community Drainage and Irrigation Programme (CDIP), told Stabroek News that they had contracted about 40 workers from Mahaica and Ann's Grove to clean the Liliendaal canal. He said they are cleaning right through and were trying their utmost to finish today. So far, he said, the water was starting to flow freely. Heavy vehicles cannot go through and operate, he added, because of the low wires that were hanging in the area. Some more workers were cleaning the koker at Liliendaal, he also said.
At the Conversation Tree intersection yesterday, sandbags were being placed along the median to prevent overtopping along the roadway.
An engineer from the Ministry of Public Works, who spoke with Stabroek News, said that the northern carriageway was closed to traffic although the most significant tide had already passed. The foreshore along Sheriff Street to Liliendaal is really low, he said, and coupled with unusual high tides it resulted in severe overtopping.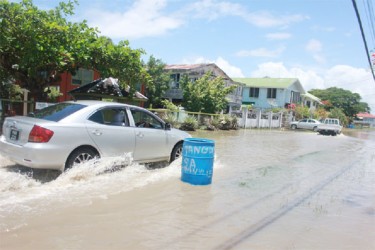 A Subryanville resident said that the overtopping was the worst of what has been a regular occurrence. "This is a regular occurrence around here," she told this newspaper. She recalled that she awakened at about 5.30 am on Sunday after hearing a loud noise and upon checking, she saw loud waves toppling over the seawalls. The resident said it was the first time in all her years living in the area she had seen anything like it. "This flooding has hit us really bad. In all my years here I have never seen these waves so bad. The flood earlier this year damaged my mango tree but now most of my trees are damaged," she added.
Another resident said that most of his appliances at his bottom flat were damaged. "The water flooded the area very quickly," he told this newspaper, while adding that the spring tides which occurred in March were not as bad as this one.
'When it come next
time I ready for it'
At West Coast Demerara villages, including Uitvlugt, Den Amstel and Cornelia Ida, residents were assessing their damage.
In Uitvlugt, an excavator was digging out a canal and putting in new tubing since the initial one was too small.
A Third Street, Uitvlugt resident told Stabroek News that he didn't expect the water to get so high. At about 5am, he recalled, he was awakened by a loud beating on his house and he said that he was lucky to wake up in time because the water started coming in really fast. "This street get it bad. The first time this thing happened it wasn't so bad. Rubbish was all over. Snakes, all sorts of fish and eels were all over this street and in my yard. When I peep out the water went high, high in the air. Right as the water go down, I build a little concrete thing for my front door so when it come next time I ready for it," he recounted yesterday. The water, he said, started to recede at about 9 am.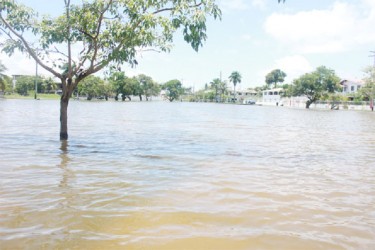 An Uitvlugt shopkeeper, who gave his name as 'Ritchie,' told this newspaper that he hadn't even finished coping with the losses from the last flood and now he has once again been setback. "Fifteen persons came and helped me. Me get lick up bad. I estimate about $700,000 in losses. This place was rocking badly and the waves were very high. I lost a lot of bags of flour, sugar and rice. Even some of the stuff in my daughter's salon was destroyed," he said. He added that they were calling the NDC all the time and that they waited until something like this happened to come out and start doing work. The pipe they were putting in, he said, was too narrow and could not do anything.
Another resident, who was severely affected in the March flooding, said that a wall had been broken at the side of his house because of the ferocity of the tides. "This water lash up the wall bad," he told this newspaper. "Minister Benn was here yesterday but he didn't speak to anyone, he come and say how he coming back, but he never did. We need high boulders at the bottom of the seawall to break the tide," he added.
Raj Bandara, a Sea View, Cornelia Ida resident said that they had about three feet of water. "These men were digging the culvert last week but they stopped. We need better drainage, something for the water to pass through properly. We fed up with this flooding every minute," he said.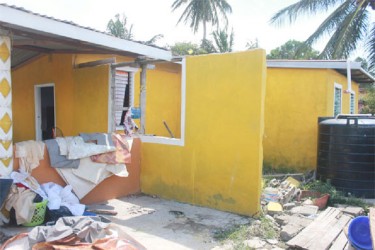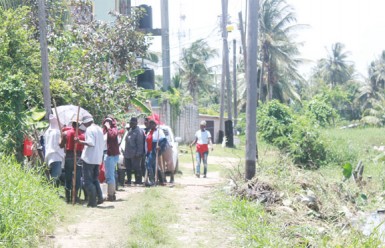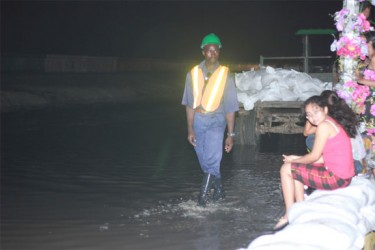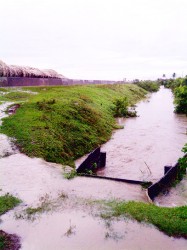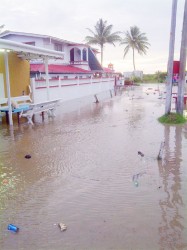 Around the Web