A Grade Two pupil of Friends Primary School, East Bank Berbice lost his life on Sunday afternoon after he was involved in an accident on Tain Public Road Corentyne.
Stabroek News understands that the driver is in police custody assisting with investigations.
The accident which occurred around 14:15 hrs on the pedestrian crossing in front of the University of Guyana Tain campus, claimed the life of seven-year-old Dinesh Chand of Lot 20 Brothers Village, East Bank  Berbice.
Stabroek News was told by an eyewitness that Chand was walking on the pedestrian crossing, trying to get across road. The eyewitness said the child was halfway across when a speeding white Toyota Raum hit him. The impact sent the child rolling under a parked estate lorry on the left side of the road, the observer said, adding that he was bleeding profusely from different sections of his head.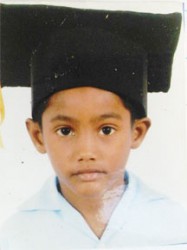 According to a police press release, Chand was pronounced dead on arrival at the New Amsterdam Hospital.
Meanwhile, Natasha Chand, his aunt, said residents of the village were taking part in a Mela, in celebration of the 175th anniversary of Indian Arrival in Guyana. She told Stabroek News that while persons were unpacking sweet meats and heading across the road, she had noticed her nephew at the back of crowd.
She added that she had already crossed the road when she was alerted that he had been struck down. She rushed back and saw him under the lorry bleeding profusely; there was a visible bruise on his forehead.
She said public-spirited citizens flagged down the vehicle, which returned and carried the schoolboy to the Port Mourant Hospital.
The boy received emergency treatment at the Corentyne institution, after which he was transferred to the New Amsterdam Hospital where he was pronounced dead on arrival.
The news of his demise, she added, had affected his grandmother, who he had resided with to the extent that she had to be admitted to the New Amsterdam Hospital.
A post-mortem examination is expected to be performed the child's body today at the New Amsterdam Hospital.
Chand was the only child of his parents who are overseas. He leaves to mourn his parents, grandparents along with other relatives and friends.
Around the Web