Businessman Keith King yesterday became the third person to be charged with drug trafficking over the 359.8 kilos of cocaine found in a container that was due to be shipped to the Netherlands.
King, 46, of Lot 12 Bel Air, was remanded to prison after he denied the charge of narcotics trafficking that was read to him by Magistrate Alan Wilson at the Georgetown Magistrates' Court.
It is alleged that between January 25 and February 20, at Houston, East Bank Demerara, he procured Ramnauth Rago to transport six pieces of lumber from Grove to Soesdyke, which were found to contain 359.803 kilogrammes–equivalent to 791.643 pounds–of cocaine.
King was represented by attorney Glenn Hanoman, who asked that his client be granted bail in a reasonable sum, since the charge against him was alleged. However, Customs Anti-Narcotics Unit (CANU) prosecutor Oswald Massiah objected, saying that counsel did not provide the court with any special reason as to why King should be released on bail.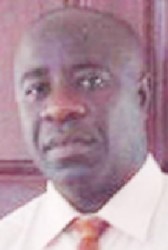 As a result, bail was refused and the matter was transferred to the Providence Magistrates' Court for May 7.
Last month, Raymon Ghani and Dominic Walsh, two employees of Guyana Timber Products Inc—the company that was responsible for the shipment—were charged with the cocaine find, which was made at the company's Soesdyke operation after the container with the logs was flagged by customs.
Magistrate Wilson had released both men on $350,000 bail, although CANU prosecutor Donald, who was substituting for Massiah, said it would be best for the men to be kept in the state's custody to ensure their safety.
The container had been sitting at a city wharf for several days although abnormalities were picked up during scanning by the Guyana Revenue Authority (GRA).
CANU agents were subsequently informed of the anomalies with the container and it was escorted on February 19 from the wharf to the company's Soesdyke headquarters, where each log in the container was searched. The hollow logs were subsequently found with packets of cocaine concealed inside. As many as 20 packets were found in a single log.
The drugs were destined for Holland, where the value is estimated at approximately US$25,000 ($5 million) per kilogramme.
Around the Web