President Donald Ramotar says that he will release the report into financial irregularities at the state broadcaster, NCN, "very soon" even as he said that while he does not manage the entity every day, rumours of purchases of multi-million dollar vehicles are untrue.
"The whole report will be released very soon," he said during a news conference at the Office of the President on Friday. The NCN board had launched an investigation last June into suspected financial irregularities at the network. Chief Executive Officer (CEO) Mohammed 'Fuzzy' Sattaur subsequently resigned, while Programme Manager Martin Goolsarran was later sent on administrative leave in relation to a $3.9 million cheque made payable to him by telecommunications company GT&T as an incentive for the production team that worked during the company's jingle and song competition, held between September 2011 and February last year.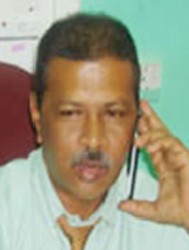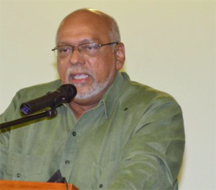 In responding to questions from reporters, Ramotar said, "I don't manage NCN everyday" but he had heard rumours that "big cars" were being bought and "I understand that that is not true. I understand that that was a vehicle that was used by the previous CEO." The vehicle, he said, is now being used by the acting CEO.
Asked if it was not worrying that the CEO of NCN was driving in a $15 or $20 million vehicle, Ramotar responded that "if an entity is making that kind of money I don't know what kind of vehicle they bought. I know a lot of government agencies don't pay duty and some of these things…
"Probably you're right, maybe they shouldn't be driving around [in] that type of vehicle but as I said nothing was bought for the acting CEO," he subsequently added.
Ramotar also said that the Guyana Press Association should make its voice heard on the budget cuts to the entity and the Government Information Agency (GINA).  "I find it worrying that I haven't heard any comments from the press association people on the cuts at NCN because if you're talking about freedom of expression I would have thought that that goes across the board that government also will have to have a right to make its opinion heard," he said.
In relation to the move to court on radio licences
controversially awarded by former president Bharrat Jagdeo in 2011, Ramotar declined to comment. "The court has not yet ruled on these matters as yet so maybe I should stay away from the court business when they have not yet pronounced on anything," he said.
Around the Web