The Cancer Institute of Guyana (CIG) was yesterday handed a provisional licence to operate its oncology clinic and undertake radiation therapy, for a three-month period, by Minister of Health Dr Bheri Ramsaran.
The Government Information Agency said in a press release that the licence was issued under the Health Facilities Licencing Act of 2007, in the light of a recent evaluation showing that CIG is in compliance with requirements under the Act.
Ramsaran had told Stabroek News that the CIG was refused a licence to operate over the last year because of deficiencies, including the leakage of radiation into adjoining rooms and the corridors from its radiation therapy machine. However the institute's officials disputed this and had expressed shock at the minister's disclosure, claiming that no such incident was ever reported.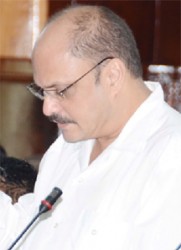 GINA said Ramsaran explained that on April 26, Director of Standards Dr Julian Amsterdam had submitted his report indicating that all the requisite personnel, equipment and safety mechanisms were in place.
CIG Chief Executive Officer Dr George Nellamattathil had earlier explained that CIG has complied with all requirements for licensing. A meeting with Health Ministry inspectors was conducted in early April, he said, and CIG was guaranteed a licence once its contracts with the professionals who work at the centre were submitted.
The CIG, which began its operation in 2006, is located in the compound of the Georgetown Public Hos-pital.
GINA stated that since 2009, CIG has been working towards licencing.
According to the Director of Standards some of the areas looked at for the licensing requirements include governance and maintenance, maintenance of medical records, patient care arrangement, sanitation and safety among others.
Around the Web