Murder accused Floyd David called "Foodface" was jailed for seven years by Justice Brassington Reynolds yesterday after he had pleaded guilty to manslaughter in the High Court.
David, 44, pleaded guilty to the lesser charge of manslaughter for the killing of Joseph Pyneandy, who he had beaten to death on September 27, 2009 at Bourda Market.
Before David was sentenced, a probation report was presented on his behalf and a mitigating plea was made by his attorney. The report stated that David was incarcerated prior to this crime for the offence of simple larceny and added that he was a good prisoner.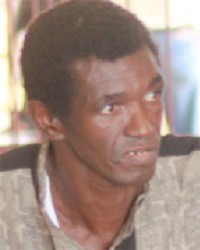 It also stated that David said that he committed the offence and was afraid of Pyneandy. David is suffering from a hearing loss and hence he cannot hear properly and will have to undergo surgery for another medical condition. His sister, who was in court, was asked by Justice Reynolds to relate what transpired to him.
He was represented by attorney Onika Archer while Natasha Backer and Diana Kaulesar represented the prosecution.
In her mitigating plea to the court, Archer stated that her client accepted his responsibility and as such he showed remorse for his action. She also said that he admitted that he dealt the deceased a blow to his head after he was attacked or provoked by him and proceeded to ask the court to show mercy in imposing penalty.
Justice Reynolds said that based on the evidence of the case it was an unfortunate incident. He added that he considered the current medical condition, probation report, age and remorsefulness of David.
As such, the base of David's sentence started at 11 years but four years were subtracted for various mitigating factors bringing the total number of year in prison to seven.
David had said at the Magistrate's Court when he was charged that the deceased had lashed him and he hit him back. However, police alleged that it was David who had hit Pyneandy to his head with a piece of wood and Pyneandy retaliated by hitting him back. David then dealt Pyneandy several other blows about his body, which caused him to collapse. He was later taken to the hospital where he subsequently succumbed.
Around the Web