A 23-year-old woman has been missing since Saturday after she was last seen at the Square of the Revolution.
Travis Belle, the reputed husband of the missing woman—Anne Stevens—said he was in the interior when she disappeared and he came out immediately and filed a missing persons' report at the Brickdam Police Station on Monday morning.
"I went to the police because my family made contact with me and said that she was missing, Belle said. "People told me that she had her phone stolen and went to make a police report."
He said Stevens was not very familiar with Georgetown and she was scared of travelling alone. He said that when he visited the police station he was told that Stevens had not gone into the station. However, Belle said, "when I was leaving one of the female officers said she had seen her in the station and at Cuffy Square."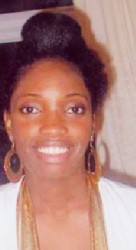 He said Stevens returned to Guyana last year after living in Canada for 12 years. She originally went to stay with her father in Golden Grove.
Stevens' father said, "She came back in October. I don't know why, she didn't say. She was acting very odd she and I had a falling out… We had argued after I tried to get her to the hospital and I ended up knocking her." He said Stevens went to the police over the incident but he did not know if she made an official complaint. He said, "she was making all sorts of odd claims before [and then she went] into the interior and I don't know where she went."
Stevens' father said that when she came out of the interior she and went to live with her aunt in D'Urban Street. "But there she acted odd and after a while she left and went to my mother in Nabaclis. After she left my mother's house I [did not] hear from her until this man she's with called me."
Stevens began living with Belle within the last month. He stated that he met her and she was with a man who was being verbally and physically abusive towards her. Belle told Stabroek News that Stevens is a very soft person and scared very easily. He said he was not aware of any drug use on her part, but she could be unwell. He said he fears she was kidnapped or worse. Belle is asking for anyone with information about Stevens' whereabouts to contact the nearest police station or call 225-2606.
Around the Web