A Guyanese woman was on Tuesday night chopped to death in Barbados by her estranged husband who is now under police guard at a local hospital after he allegedly ingested a poisonous substance.
The man also allegedly torched the house the two had once shared in St Barnabas, St Michael.
The two had been estranged for about four years.
According to a report from the Barbados Nation, 64-year-old Brenda Belle was stabbed to death at a house in Cutting Road, Haggat Hall, St Michael where she was staying with her friend, Herman Bentick.
Relatives in Guyana said the woman had only returned to Barbados on March 20 after arriving in Guyana in February.
Paula Duncan, Belle's daughter, yesterday told Stabroek News that she was informed that Alan Belle, her mother's estranged husband, had followed her to Bentick's home where he proceeded to bang on the door and break several windows.
Bentick told the Nation that just after 8 pm, he and Belle had returned from the police station where she had gone to take a medical report pertaining to a prior injury she had sustained at Alan Belle's hands.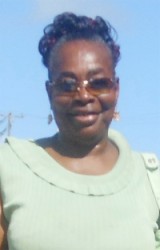 Duncan explained that her mother sustained the injury after Alan Belle turned up at a party she was attending last Saturday and stabbed her in her side after the two began to argue.
The woman said she had received a call a few hours later informing her that her mother had been stabbed, and that her attacker had escaped.
She said her mother had called her the day after and explained to her what had transpired. Nothing, however, could have prepared Duncan for the call she would receive two days later.
Duncan yesterday said that close to midnight on Tuesday, she received a call from a friend in Barbados who told her "something just happened to Brenda". She said her friend told her that she needed to get additional details and would call back later.
Duncan said when her friend called back she was crying. She said that the crying led her to suspect that whatever had happened was very serious.
The friend eventually told her "Alan just chop up yuh mother."
Upon hearing the news, Duncan said, she called her children's father, who resides in Barbados, and asked him to verify what she had heard. However, by the time the man arrived at the house the undertakers were already removing Brenda's body.
Duncan said that her mother had started a relationship with Bentick sometime during her four-year separation from Alan Belle. She explained that after spending some time in Guyana, Belle returned to Barbados and found that Alan Belle had moved another woman into their home in St Barnabas. Belle, Duncan said, opted to leave her husband and subsequently started a relationship with Bentick.
According to the Nation, Bentick said that Brenda, who had taken refuge at his residence since being released from the hospital on Sunday, fell asleep while watching television. He then heard a banging sound on the window and the name "Brenda" being called by a voice which he recognised.
Bentick was quoted as saying "We run through the house and went in the garden and I get over the galvanise fence. I say Brenda come but Brenda was so big and heavy and I trying to pull she over, but she say Bentick go long and leave me alone. I stand there for about sixty or eighty seconds looking at Brenda trying to get under the cellar and she can't get under the cellar. If I could have pulled her over, I would have pulled her over and carry her away."
Bentick told the newspaper that he turned and ran through a busy area and stopped at the first house he found. The man said that he woke up the house's occupants and asked that they call the police.
Stabroek News understands that Bentick heard Belle screaming "ow Alan don't kill me," as he was trying to get help.
The man told the Nation that after he was finished with Belle, her attacker stood in front of the house with a knife in his hand saying "Freedom, I got she, man." He said that though several persons had come outside, none of them made any attempts to help.
He said that the man subsequently jumped on a bicycle and rode away.
Bentick said that when he returned to Belle, she was gasping for air. The woman had been chopped several times about her body.
Though Duncan said that her mother never complained about any abuse at Alan Belle's hands, Beverley Hughes, a longstanding friend of Belle told the Nation that she was not surprised at her friend's fate since she had often complained of abuse in the 14 years she had been married.
"I going to say the system failed Brenda, because she got stabbed last week and the police said they couldn't take action unless she got a medical, which is stupid," Hughes is reported as saying.
Another of Belle's friends, Colin Primo, told the Nation that he saw Alan Belle on Saturday after hearing that he had just stabbed Brenda and she was in hospital. Primo said, "I called her and say he begging me to tell you don't worry about the story because he don't want to get lock up. And she turn away and say 'he always with this thing, the last time me hit me and swell up all my face'."
Friends of Belle in Guyana described her as a very "bubbly" person. She leaves to mourn three children and several grandchildren.
Around the Web