After serving as the home of six Caricom Secretaries-General for the past four decades, Colgrain House, one of Guyana's historic buildings, may never again serve this purpose and its ultimate fate remains unclear.
Early last month during a meeting with Plaisance residents at the village's Community Centre ground, Minister within the Ministry of Finance Juan Edghill announced that the government was currently expending US$10,000 to rent a residence for incumbent Caricom Secretary General, Irwin LaRocque.
He said that as part of Guyana's obligation to provide lodging for the Secretary-General, as well as to reduce the monthly cost, a plot of land in Sparendaam had been earmarked for the construction of a permanent residence.
Edghill made the disclosure after residents asked why the site of the signal tower, part of the government's E-Governance Project intended at that point for the Community Centre Ground could not be moved to where the old radio tower had once stood.
Asked why Colgrain House, home to Caricom Secretaries General, and before them the Secretary General of  the Caribbean Free Trade Area (Carifta) would no longer be used to house the Caribbean Community's heads, Edghill responded that the building lacked certain amenities deemed necessary to accommodate LaRocque and his family.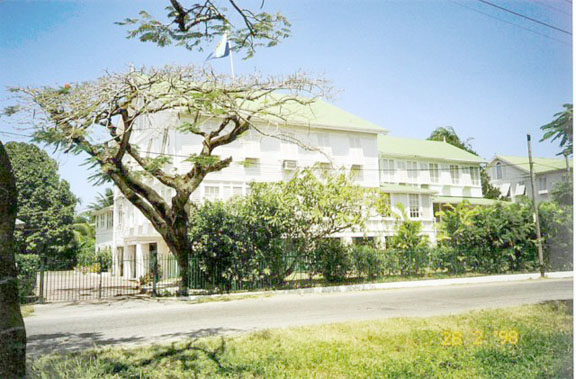 Colgrain House, after being sold several times, fell into the hands of Jock Campbell of Bookers, who lived there at one time. It was purchased by the Government of Guyana in 1975. It served as the administrative offices of Carifta, Caricom's predecessor, as well as the residence of its Secretary-General, Fred Cozier in 1968. Thereafter Caricom Secretaries-General William Demas, Alister McIntyre, Kurleigh King, Roderick Rainford, and Edwin Carrington all called Colgrain House home during their tours of duty.
This tradition was broken in 2011 however with the appointment of LaRocque. Stabroek News understands that since his appointment the current Secretary General has never resided at Colgrain House.
Attempts to determine what deficiencies rendered the house inadequate for use by LaRocque were unsuccessful since Foreign Affairs Minister Carolyn Rodrigues-Birkett could not be reached on Friday or again yesterday for a comment. Edghill had explained that his knowledge on the status of the building was limited, but said that the Foreign Affairs Minister would be better suited to answer such questions.
Edghill had stated that the house currently serves as the offices of the Linden Economic and Technical Committees. These committees, however, do not meet on a daily basis neither are they expected to deliberate indefinitely, which raises the question of what the ultimate fate of the house will be.
Around the Web