Former New York State Senate Majority Leader John Sampson, who is being probed by the Federal Bureau of Investigation (FBI) for accepting a loan from convicted Guyanese businessman Edul Ahmad, this week became the latest politician snared in a long-running federal corruption probe, with charges expected against him this week, the Daily News has reported.
According to the report Sen John Sampson (D-Brooklyn), who was once among Albany's most powerful politicians, is the senator identified in court papers as asking ex-Sen Shirley Huntley (D-Queens) to wield her influence on behalf of a businessman holding a Kennedy Airport lease in March 2012.
The businessman wanted to expand his lease, and Huntley arranged for him to meet with Port Authority officials.
Huntley allegedly took $1,000 in bribes, court papers state, and then wore a wire to record meetings with seven elected officials while working as a federal informant.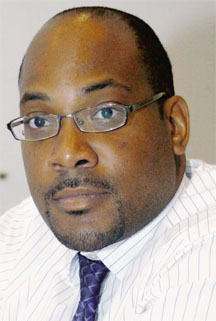 According to the sources, the FBI is examining a US$100,000 "loan" to Sampson from one of his legal clients, Ahmad, who is charged with mortgage fraud in an unrelated case.
Ahmad also delivered a $40,000 "loan" to US Rep Gregory Meeks (D-Queens) in a deal.
Ahmad's attorney, Steven Kartagener, told the House Ethics Committee that the loan had no written terms regarding interest or payment schedule.
Meeks made no payments on the loan for two years until the FBI began looking into it, the lawyer had acknowledged. He declined comment Saturday.
Disgraced former State Sen Huntley "made numerous recordings of meetings" with elected officials, staff members and a consultant while serving her Queens district, between June 2012 and August 2012, according to her sentencing memorandum filed in Brooklyn Federal Court.
The House Ethics Committee cleared the congressman in December after it investigated the loan, ruling Meeks' failure to declare the loan not illegal. Huntley became the second corrupt state lawmaker exposed in the last five weeks as a government informer gathering damning details against her legislative colleagues.
Nelson Castro resigned his Assembly seat last month after acknowledging that he wore a wire for three years. Assemblyman Eric Stevenson (D-Bronx), in part thanks to Castro, was charged with perjury.
One of Sampson's allies when the Democrats briefly had control of the Senate is Sen Malcolm Smith (D-Queens), who was busted in April for trying to bribe his way on to the GOP line in the city's mayoral race.
Smith has denied any wrongdoing.
Sampson is expected in federal court later this week as the latest big catch in a political corruption probe.
His attorney, Zachary Carter, declined comment on the case Saturday.
Sampson is of Guyanese parentage and has visited Guyana on several occasions and early this year the New York Post reported that that he came under scrutiny in a web that also ensnared Queens democratic congressman Ed Meeks and convicted Ponzi artist Allen Stanford.
The Post had said that said that the FBI has launched a criminal probe of Sampson of Brooklyn.
The report had said that the inquiry focusing on Sampson's campaign fund-raising arises from a broader federal probe into Meeks.
According to the report, Ahmad is the common link drawing the FBI from Meeks to Sampson.
Ahmad had been embroiled in a congressional ethics probe for giving Meeks a secret US$40,000 loan believed to have been a gift.
Ahmad pleaded guilty in October in a separate, US$14 million mortgage-fraud scheme.
Ahmad faces more than 10 years in jail for submitting bogus information on mortgage applications to lenders and using straw buyers to hide his role in the scam.
He also faces more than US$15 million in fines and restitution, the report said.
However, since then there has been no further update on his case and it is believed that he has been cooperating with authorities in an effort to secure a reduction in his sentence.
Around the Web