Both the man who died after allegedly making sexual advances and his alleged assailant are the true reflection of the poor and powerless in society in the Barnwell Squatting Area, Mocha, East Bank Demerara where the tragic incident occurred.
At 33, Anthony Mark Fredericks-who took his final breath on Saturday morning as he lay writhing in pain-was very ill, addicted to drugs and had a mental disability.
His 27-year-old alleged assailant (and not 18 as was previously reported) is a mother of five with another on the way and is reportedly addicted to alcohol.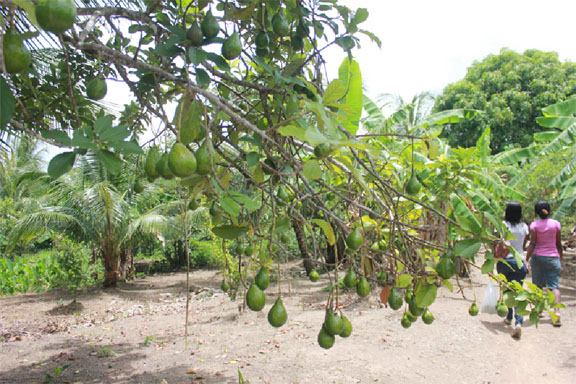 They both live in a squatting area that can be described as 'being behind God back' which is bereft of all public amenities and where children are forced to walk for miles to get to school and when it rains many are forced to stay home.
A visit to the area yesterday revealed a community that seemed lost and while a few appeared determined to make it work, many gave the impression that they had just given up.
Rita Fredericks wants justice for her son and she refuses to believe that he assaulted the mother of five even though she admits that he was sick and he had been charged with attempting to burn down her house. But she feels the pain of a mother who has lost a child and she wants the person who is responsible to be prosecuted.
For the husband of the woman, he hopes that Fredericks may have died from another problem and not the stab wound his wife allegedly inflicted on him. The man, who said he has been with the woman for about 14 years and is the father of four of her five children, had just visited the East La Penitence Police Station where his wife is being held.
"I can't tell you wah really happen, is coming home I coming home and somebody meet me and tell me this thing," the dazed-looking man told this newspaper.
He explained that he works at sea and would spend days away from the home he shares with his wife and her sister and their children. He was returning home after three days at sea when he was greeted with the tragic news. The woman, who is four months pregnant, according to him and other relatives, is holding up well in the lock-ups.
"She has been telling one story over and over…she is not lying she was defending herself. What would have happened to her if she was raped?" one of her relatives asked yesterday.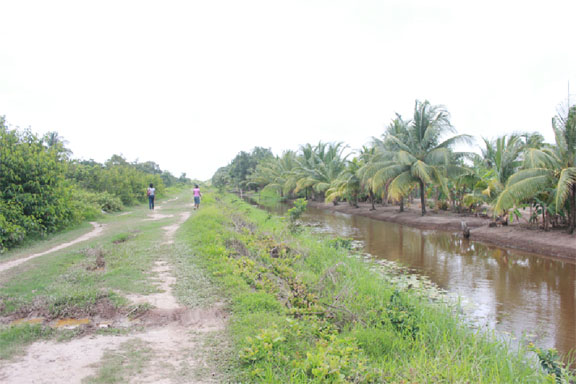 She said she is shocked that the man would make such an advance when he knew the woman well and they are part of the same community. The family is not pleased with media reports describing the woman as an alcoholic but they did not deny that she would drink from time to time.
No one witnessed the alleged incident but according to the owner of the home where the nine-day observance was being held, Fredericks and the woman were not at her home. She explained that it was nine days following the death of a relative and as is the custom they decided to observe the occasion and cook some food.
"But we didn't have no drinking up or anything," the woman said contrary to what many of her neighbours said.
She said it was late in the night when the alleged assailant, who is related to her husband, arrived at the house and her husband sent her home and she left in the direction of her home, walking along a dark lonely dam. It was there she was allegedly attacked by the now dead man and she stabbed him. The woman, at whose house the observance had been held, related that a short while after the alleged assailant left, Fredericks called out to her and told her that he had been stabbed. He then took a seat on a bench underneath her home.
"He mother dem been passing not long after and I call out to she and tell she come fuh she son and she come and tek he and dem lef and den I hear he dead. But nothing ain't happen here and I don't know wah really happen," the woman said.
The man's mother has related that even though her son was in pain he refused to be taken for medical attention and she was forced to do what no mother would wish on her worst enemy-watch her son die.
The alleged assailant's sister also does not know what happened but she did relate to media operatives on Saturday that the woman returned home and told her that she had stabbed the man after he had attacked her. Another relative said the man was observed making advances to the woman earlier in the day and it is believed that she could take it no more.
"My mother said he was touching her and she keep pushing he away but he keep coming back… When I speak to her in the lock-ups she tell me that he hold she from behind…and then when she couldn't take it anymore she stab he and went away," the woman said.
At the home of the woman, her children-ages 11, 9, 6, 4 and 1-seemed oblivious to their mother's situation as they were having a merry bath in the canal in front of their  home with an older relative.
The couple is originally from Pomeroon but her husband said they came to the area about seven years ago as the woman wanted to be close to her father. She was the last child for her father according to the man and being the "baby of the family she wan deh near she old man." Her sister said their mother died many years ago when the woman was just two years old and she was brought up by older siblings and other relatives.
When she came to Mocha she initially worked at a snackette but currently works nowhere and depends on her husband.  The father she came to be close to disappeared one evening last December and the family has not seen him since. He had left her home to return to his and that was the last they saw of him.
Persons in the area were not too keen to talk about the incident and while some supported the woman, others supported Fredericks even though many took the attitude that it was not their problem so they were not bothered one way or the other.
And so the woman at 27, a mother of five-soon to be six-may more than likely be charged with murder for allegedly defending herself against the sexual advances of a man who was too ill or drunk to realise that he was seriously injured and needed the attention of a doctor.
And while both families are in distress-one mourning the loss of a loved one and the other the absence of a mother to her young children-the residents of Barnwell squatting area continue to pray for three basic amenities-electricity, potable water and usable roads.
Around the Web