A Ministry of Health official says while progress has been made in the practice of midwifery there is still a long way to go.
The Director, Health Sciences Education, Wilton Benn was speaking at a function held on Saturday to honour midwives on the occasion of International Day of the Midwife 2013, according to the Government Information Agency.
The ministry collaborated with the regional health authorities to host the reception at the West Demerara Regional Hospital under the 2013 theme 'The World Needs Midwives more than ever now'.
In his presentation, Chief Medex Baldeo James noted that there have been improvements in the level of care being administered by local midwives and applauded them for a job well done.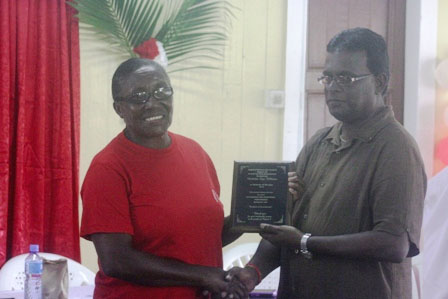 "Despite the many challenges, the midwives in Guyana have done well, and have continued to exercise a high level of professionalism, pride and good work ethics in executing their duties," he said. James also noted that being a midwife entails tremendous sacrifice and hard work.
"Midwifery is more than delivering babies; it is about helping parents and families during one of the most crucial times in their lives; supporting a mother through pregnancy and childbirth and administrating post-natal care," he said, according to GINA. The chief medex then urged midwives that as they continue in their role of saving lives to "always maintain a firm commitment in ensuring the safety of both women and children during pregnancy and delivery."
Benn said that no woman should die giving birth and pointed out that even though there may be more to celebrate from a local perspective, "we still have a lot of progress and a long way to go in the midwifery practice". He also acknowledged that there are still too many instances of maternal deaths and close calls. "So even as we celebrate, as we celebrate our progress, as we celebrate our victory, we must consider the fact that we cannot sleep, we cannot rest because every child deserves to be mothered, and in order for that to happen, we have to pay keen attention to what we do in this area of work," Benn said. The director then called on midwives do everything in their power to safeguard the health and wellbeing of the mothers in their care. He noted that to guarantee the good health of mother and child, what is needed is an educated, qualified and well regulated workforce in the area of midwifery. To this end, Benn said that the Health Sciences Education Department is currently working to strengthen the scope of midwifery practice in Guyana, to revise it in such a way that it will influence legislation, regulation, supervision and also the curriculum. Maria Francois, chairperson of the Midwives Association of Guyana, said that press reports when a mother dies in childbirth affect midwives. "Every time a woman dies; a part of us as midwives dies also. We feel the pain too," she said, adding that "No midwife intentionally allows a woman to die."  Further, she said that in the aftermath of a death in childbirth they too must regroup and draw inner strength to continue and to prepare for the other mothers who come their way. "All we want sometimes is the recognition, which is rightly due for the countless mothers and children's lives saved," Francois said, even as she applauded the regional authorities for facilitating the award ceremony annually noting that it is a needed confidence booster.  According to GINA, Chief Nursing Officer, Taramattie Barker, Director, Maternal and Child Health, Dr Janice Woolford, Regional Health Officer, Region Three (acting) Dr. Nadine Coleman and President, Guyana Nursing Association Joan Stuart also attended the ceremony.  Earlier in the day midwives marched from Versailles to the Hospital, as part of the programme to commemorate the Day.  International Day of Midwife has been observed since 1991 in over 50 nations around the world. It is organised by the International Confederation of Midwives to raise awareness of the important job midwives do and the care they provide in their communities, the release said.
Around the Web