The National Communications Network (NCN) had dismissed the up-linking of the Guyana Learning Channel (GLC) as "not a viable project, both technically and financially," GLC Head Dr Seeta Shah-Roath said and therefore it was not put out for public tender.
According to her, when she had approached NCN on the issue of providing satellite service for the GLC, top persons there had told her that it would be "first world technology being put into a third world scenario".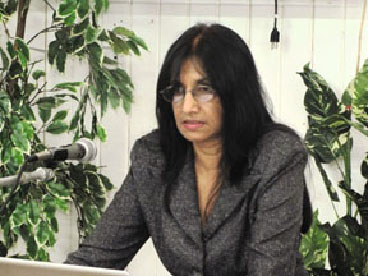 Shah-Roath said that when she originally presented the proposal to have a satellite television network that would reach all of Guyana she was told that "a satellite broadcast network was not a viable project, both technically and financially."
She said that in a meeting with NCN she was told that it was only possible to downlink and use terrestrial-based broadcasting, which is compatible with technology being used by NCN.
It was because the state-owned TV network was dismissive of the proposal from its inception that a public tender was not advertised for the GLC, according to sources.
The sources added that it made little sense to tender the project because only TVG Channel 28 had the technology.
Stabroek News was told that a public tender would not have made a difference since NCN had showed no interest in procuring the technology owing to the costs associated.
However, according to a broadcast expert if the GLC was originally "put out to tender the government could've said to NCN you can acquire this technology and you can have this amount of time to do so". He told Stabroek News it was not impossible "that NGOs could have been approached to assist with financing if that was the case that a fixed site location was established after being sourced".
The expert stated that the public's intrigue over the matter stems from the secretive nature in which the GLC was established and why the government was willing to give a contract to a privately owned entity as opposed to putting it to public tender and having all costs associated revealed.  "Investing in an up-link utility is beneficial in the long run and this was the perfect opportunity for NCN to acquire such technology and begin to think about non terrestrial transmission," the expert said.
Currently the government is paying TVG $3.6 million per month in a bundled package for services inclusive of the up-linking cost to the NSS-806 satellite.
The GLC is able to bundle its up-linking capabilities with TVG at a reduced rate.
Sources pointed out that expenditure of public funds in this magnitude should always be underpinned by tendering.
According to a source, at present, the global market price for up-linking to satellites can range from US$8,000 to US$10,000 per megahertz. The fact that TVG purchases "in bulk" reduces costs.
Stabroek News was told that using terrestrial-based transmission would bring in a host of concerns, since the GLC was supposed to be largely interactive. A source stated that "using other means of transportation to get the DVDs and videos to the station would be problematic… and uploading through the internet would reduce quality."
At present the GLC has 17 stations across Guyana's 10 regions and as a result the viewing scope is wider than that of the state-owned NCN, pointing to stunted development by the state-owned entity.
When NCN was created through a merger of the Guyana Broadcasting Corporation (GBC) and Guyana Television Broadcasting Company (GTV) in 2004 many thought the new entity would look for regional scope and investments would be made to acquire up-linking capabilities.
This was not done and neither did the state media source information on the possibility of acquiring such technology.
Faced with a brick wall at NCN, Shah-Roath said she was then told of TVG's abilities and an agreement was struck.
"The final agreement which concluded in 2010, requires TVG to provide The Learning Channel with a guaranteed satellite transport network service which includes; satellite up-link; adequate satellite bandwidth; 24 hours monitoring; full system redundancy; guaranteed power; and guaranteed reception with the minimum possible size receiving antenna," Shah-Roath stated.
TVG is one of three Caribbean entities that have the direct up-linking to satellite capabilities, while TeleSUR the pan Latin American terrestrial and satellite network also has the ability and is located in neighbouring Venezuela. TeleSUR is available in 10 South American countries and the cost of services is absorbed by the various nations at the government level. This sharing of bandwidth rental and associated services is done as a way to reduce the cost for a single nation and can ensure that bandwidth rental is done through numerous satellites including the NSS-806 that is now being utilised by TVG and GLC.
TeleSUR has a fixed site, but the state entity was also able to utilize a portable up-linking unit when it came to Guyana on Friday last to broadcast the signing of the rice agreement under PetroCaribe to the tune of US$600,000 including all system components right down to the generator. TeleSUR staff stated that the up-linking and the required bandwidth was a cost absorbed by the Venezuelan government and part of the national budget. The Venezuelan team told Stabroek News that smaller up-linking and down-linking dishes could be acquired for US$300,000 plus the cost of monthly bandwidth rental.
The GLC had stated that through its partnership with TVG it was able to save an initial US$150,000 start-up and US$2,000 in monthly bandwidth rental. However, if the state was to acquire the technology and absorb the costs into the national budget the room for development would bring costs down as more use of the technology became apparent.
Around the Web