Two families are in mourning as they await the post-mortem examination results for Vijay 'Kevin' Arjune, 24, and Parbattie 'Priya' Mangroo, 19, who were found dead in a suspected murder/suicide late Thursday night.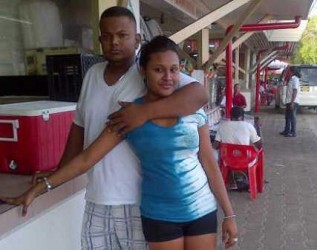 The two young people were found in a rented Toyota Raum parked at Caledonia, East Bank Demerara.
Mangroo's mother was inconsolable yesterday when Stabroek News spoke to her and family members. She repeatedly stated, "Every day I reading paper, every day I watching news and now they come fuh me – to talk to me."
She seemed overwhelmed as she asked why her daughter had to die and why Arjune allegedly shot her in the neck prior to shooting himself in the head.
Mangroo's father said the couple had left the Soesdyke home late in the afternoon and were headed to Arjune's home at Land of Canaan.
"They were having problems with his mother before they went to Suriname and when they come back from Suriname he nah really want to go home," the father said.
The father of the young woman said his daughter was hesitant to go with Arjune. He said the young couple had planned to get legally married this week sometime and that the two families were in agreement. "They went to Suriname since last Friday, come home Wednesday and they spend the night here. And that's when he was getting ready to leave to go talk to his family," the father stated.
Mangroo's family members said Arjune seemed agitated and he was having problems with his mother. The young woman's sister stated that Mangroo was about a month pregnant and the couple had wanted to get married as soon as possible, but Arjune's family wanted the couple to wait.
The sister said that on the recent trip to Suriname, Arjune was upset with his family and spent all his time with her and Mangroo.
Mangroo's sister said she was not aware Arjune had owned a gun and she did not know where he would've gotten one.
She said that prior to leaving for Suriname, Arjune had withdrawn a large sum of money from the bank.
The sister claimed that Arjune had once mentioned that he was at times so frustrated with the behaviour and actions of his mother that he wanted to just kill himself and Mangroo. She said she did not take this literally.
Friends said it was possible that Arjune may have wanted to live with Mangroo away from his family.
On Thursday evening, Mangroo's family made repeated calls to Arjune's family to see if the couple had arrived there safely.
Arjune's mother and stepfather drove past a vehicle they believed to be the rental the couple were using. They made contact with Mangroo's parents to say that there was still no word from the young couple and their phones were turned off.
At approximately 10:30 pm the car was discovered by both sets of parents. Mangroo's father first went around the vehicle. "I thought they were sleeping because the car was on. When I went around I see like Priya had nuff foam in she mouth I didn't know what – it was like cloth or something and I walk around and I see de blood," he said. The man said it was horrifying to see his daughter in such a manner.
Arjune's mother told Stabroek News that she couldn't get in touch with her son or Mangroo since Friday last, but he did call her on Saturday to wish her a happy birthday. The distraught mother stated that the young couple had wanted to get married and both sets of parents were in agreement. However, Arjune's said, since she was a Hindu, the marriage couldn't happen until November because her brother had passed away last year.
"He was meh only son and I been want rub dye… I loved Priya. I don't know what to think. My son was not this person… not a person to kill himself," she lamented.
Arjune's family was in as much shock as Mangroo's. They stated that after finding out the young woman was pregnant they were upset that the Hindu ceremony wouldn't be adhered to. Arjune's mother said she was not aware that the couple was prepared to legally wed sometime this week. "That I didn't know, no one tell we," she said.
The couple met back in November of last year.
Both families have expressed their shock and utter disbelief that such an incident has occurred.
Crime Chief Seelall Persaud told Stabroek News that investigations are ongoing but for now, "it looks like a murder/suicide based on the evidence that we gathered". Persaud contradicted the families' statements and told this publication that "it was residents who saw the car parked on the road for some time and became suspicious and peeped inside and saw the two people."
Around the Web