A driver escaped death last night when his car ended up on a pontoon after he careened off the Demerara Harbour Bridge as he was headed west.
The car had to be later lifted off using a crane mounted on a canter truck.
This bridge incident follows one just two weeks ago where a truck found itself perched precariously off the edge of the floating bridge, slowing traffic for hours.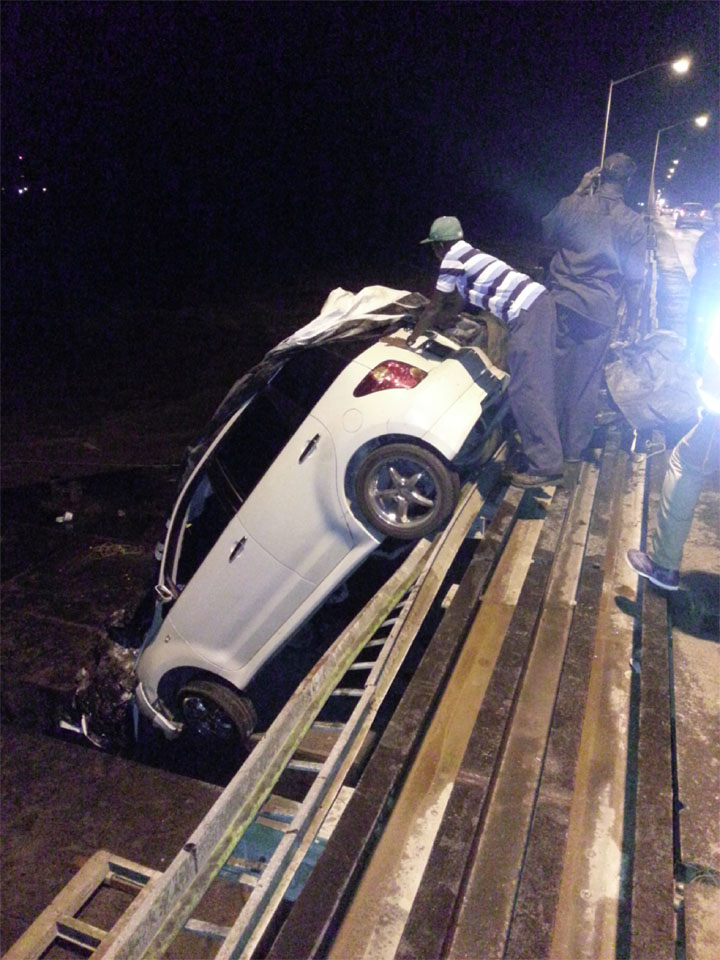 "We got a call at about 20:30 saying that a car is on the pontoon at span 11. The supervisor went out there, investigated and found out that it was so…the car was leaning down on the pontoon, it was completely off the bridge," said General Manager of the Demerara Harbour Bridge Rawlston Adams.
We spoke to the driver who claimed that he had some mechanical problems. We don't know if that is true," he said.
Adams said that the Police came and commenced their investigations and took the driver of the car away.
"Right now we have secured the vehicle in terms of covering it, because what we found is that persons were slowing down to take a look and take photographs and that was slowing the traffic up," Adams said.
"We had to take some measures to run the traffic off by using double lanes and that was how the traffic was cleared," he said.
At that point, he said that he was hopeful to commence an operation to remove the vehicle in a matter of minutes.
Asked what sort of damage had been done by the car, he said that it is likely that the cable trays have been damaged in the vicinity of where the car came to rest. "We don't know yet what sort of damage is there on the pontoon, so once we [remove the vehicle] we will make some assessment in terms of damage to the pontoon," he said. "By tomorrow when we get some better light we will be able to see and ascertain what damage has been done to the pontoon," he said.
According to Adams, the driver said that he was the only occupant of the vehicle at the time of the accident.
Asked whether there are any cameras along the bridge, Adams said that this was not the case, except for those located in the toll booths.
He said that because of the steady movement of the floating bridge, placing cameras would be a difficult venture.
Around the Web