A 27-year-old woman of Bush Lot, West Coast Berbice died early yesterday morning after giving birth via caesarean-section to a healthy baby boy at the Balwant Singh Hospital in Georgetown.
Shallene 'Shelly' Jagjit-Ragoobeer, a Systems Development Officer in the education department of the Regional
Democratic Council (RDC), Region Five was admitted at the hospital on Saturday when she visited for her "clinic date." She was two weeks short of her due date.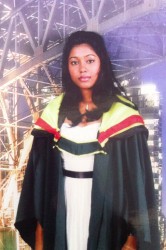 Her mother, Fazia Jagjit said her daughter, a former teacher of Bush Lot Secondary School, was healthy throughout her pregnancy and had no complications, except that her feet looked swollen on Friday.
Shallene, who was married to Adrian Ragoobeer, the regional engineer of Region Seven, was told at the clinic that the "fluid [from the amniotic sac] was drying out", her family said.
Jagjit said the C-section was performed on Monday morning and her daughter who was initially in a private room, was placed in the open ward for "observation." Up to that time, Shallene was in good spirits and was "talking and laughing."
She was later taken to the Intensive Care Unit (ICU) because the doctors said she needed "platelets to clot the blood." Doctors had "sent up a camera to see what was wrong with her."
They had also done a blood transfusion and it was suspected that she was "bleeding internally…", the relatives added
Jagjit said that around 5 am she was resting in the private room that Shallene had booked when she got a message that her daughter had died.
Regional Chairman, Bindrabhan Bisnauth and a team of regional officials, including Regional Education Officer, Owen Pollard and Regional Executive Officer, Ashford Ambedkar visited the family yesterday to offer their condolences.
Bisnauth told this newspaper that a prayer service was held at the region in her honour and that he was saddened at her sudden passing. He said they have decided to "render any assistance that we could."
Pollard said Shallene's death is a great loss and that she would be "missed by all." He said she was the only professional staffer in information technology and not only served in the department but in the IT labs at primary and secondary schools.