Alberttown residents are fed up with the Mayor and City Council's lack of effort to clean drains and alleyways and are calling for action.
"The stench has gotten so bad. Look, this water doesn't move and it is filthy," Rose Clarke told Stabroek News. The new grandmother said, "I brought home a new gran and this drain is in a state. This isn't healthy for any of my grandchildren."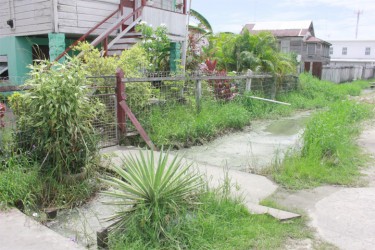 She pointed out that the alley, which had a drain to facilitate the movement of water was "a solid waste, that isn't water there anymore; it is solid you can walk on the overgrown soggy mess". She stated that multiple times she and other Albert Street residents went to the City Engineer and filed complaints. "One time when I went the clerk asked me if I live in the unpainted house. But that is my neighbour so they know. This has been getting worse for months… Why do we pay taxes if this is the state of this drain?"
Clarke stated that from the Alberttown Police Station to Second Street empty lots and derelict buildings meant that no one was there to clear the overgrown grass. However, the city is responsible for clearing the drains. Clarke said residents along Albert Street have noticed that during rainfall, the water will rise and remain stagnant for weeks.
"It bubbles over; this nasty water stays in my backyard… This situation is getting from bad to worse I can't get to wash as I don't want to open my house to the smell." Clarke noted that "even when the President passed by on the Green Walk I managed to talk to him and he said he would look into it from since then we have been going and telling the city… This is getting worse!" She recalled that it has been almost a year and the drains have received no attention from the city.
She said that the toxicity of the water was made very real when one of the family dogs was released from its pen and drank the water. "He drank it and a while later started getting sick and died. I don't like loosing the dogs in the yard now, she related." She noted that neighbours have all gone separately to the City Council and filed reports.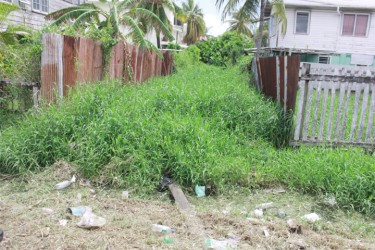 Another neighbour said that her businesses were being placed in jeopardy because of the drain seeping and oozing through the grill work. "I clean my yard and I don't use the drain as a trash. I have businesses and I don't want clients seeing that and smelling this stench when they enter," she stated.
Yet another neighbour said that the abandoned homes at the corner of Fourth Street are a haven for rats and snakes. "The drains are overgrown and kids are playing on the court and this just isn't what this community needs, we need the city to come and at least dig out some of this," the man said.
He said that "one year of no maintenance isn't acceptable people have businesses here, the police station is here and this street is disgusting. Doesn't make sense and very unacceptable." Residents told Stabroek News that one year after the drainage issue was first addressed it was now sufficiently out of control. Many pointed out that the city's clean up campaigns are focused on residents using receptacles, but not on the city doing its part by picking up garbage on time or cleaning and de-clogging the drains.
Around the Web