Region Ten Vice Chairman Byron Lewis says while there is much to celebrate as Guyana observes its 47th independence anniversary, more investment needs to be made in youth and Berbice River residents must be seen to be equally important as those in other parts of the country.
In his address at the independence anniversary ceremony held on Saturday night at the Sir Frank Worrell Park, Kwakwani, Upper Berbice River, Lewis reeled off a list of problems affecting Region Ten.
He said Guyana must capitalise on its natural resources and racial diversity by making use of the collective will and input of its citizens to advance development. In this regard, the people of the Berbice River must be seen to be equally important as those in other parts of the country.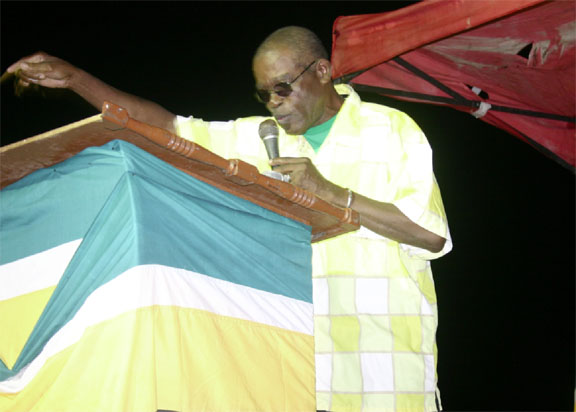 Lewis noted that Region Ten is a plural society which is culturally rich and possesses diverse natural resources: gold, forestry, bauxite, water and road building material, and it is time to invest in invest in young leadership and entrepreneurship and "build a platform that brings unity in our lives."
Stressing that it is the government's responsibility to provide health care for the nation, the vice chairman said Kwakwani needs a new road ambulance while a river ambulance is needed for the remote villages in the Berbice River.
He also said the Region Ten Democratic Council has continually experienced problems with contractors and there is need for a good road between Linden and Kwakwani before there could be meaningful development at Kwakwani. According to Lewis, the road between Linden and Ituni – over the first 36 miles – is terrible and $266M was recently squandered in an unsuccessful attempt to repair it. "Somebody got to fix the road, by hook or by crook," he added.
Lewis also expressed concern that the government chose to unilaterally install an Interim Management Com-mittee (IMC) at Kwakwani although the community already had a Neighbourhood Development Committee. "People have rights, which must be respected," he said, adding that it was time the government moved to implement local government elections.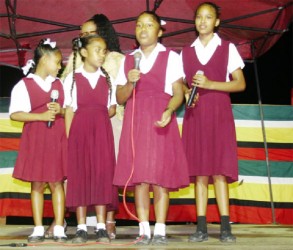 Meanwhile, in his address Junior Minister of Finance Juan Edghill urged Kwakwani residents and those from the wider Region Ten communities to join the rest of the nation in advancing development.
"If we don't work together, we will be doing so to our own peril," he said. "When we work together we do so for our own good," he added. Edghill said over the past seven years Guyana has experienced continuous economic growth while other countries within the Region and even further afield have been struggling to keep their economies afloat. He noted that Guyana's development path is not a journey for one set of citizens and the country needs responsible leadership at all levels.
The minister also urged citizens to be cognizant that with every right comes responsibility such as paying taxes and protecting the environment. Minutes before the Golden Arrowhead was hoisted, he said, "…we must be reminded of where we are going."
While Regional Chairman Sharma Solomon did not attend the ceremony, his address was read by a female secondary school student. Brief remarks were also made by Sashie Parvaton, Chair of the IMC of the Kwakwani Neighbourhood Committee. The ceremony also featured several cultural items such a dramatic poetry recital by veteran Linden actor/poet, Frank Fyffe; songs by the Burn It Up Group; a performance by students from the Kwakwani Primary School; dance by students of the Kwakwani Empowerment Centre and a song and poetry recital from the top three finishers in the recently held Ms. Big and Bold Pageant of the Linden 2013 Town Week.
Around the Web