Detailed proposals for the road construction project between Georgetown and Lethem are to be presented in June, Gail Teixeira, Presi-dential adviser on Govern-ance revealed to Region Nine residents.
She also announced that ongoing discussions have been taking place with the Venezuelan Government on the purchase of fuel at a cheaper price to assist with the reliable supply of electricity in Region Nine.
A release from the Govern-ment Information Agency (GINA) said that Teixeira made these announcements at the St Ignatius benab at the flag-raising ceremony on the eve of Guyana's 47th Independence Anniversary.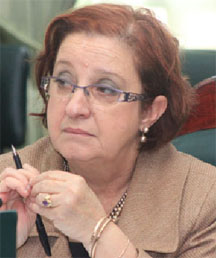 She is quoted as saying, "There are two major teams now between Guyana and Brazil, and Venezuela that have been meeting over the last few months… for the development of the road from Brazil to Georgetown, and in June, what is called the infrastructural team will be reporting to the Presidents of the two countries on what are their proposals and designs and other issues."
GINA said that the highly anticipated project is one that former Brazilian President Luiz Inácio Lula da Silva had assured would be the next major undertaking to follow the Takutu River Bridge, commissioned in 2009.  When complete, the stretch of road will significantly reduce travel time between Georgetown and Lethem which takes about 12 to 13 hours at present.
The Ministry of Public Works has been responsible for maintenance works on the bridges and the long stretch of road, which in the rainy season poses a challenge to commuters, particularly those with heavy-duty vehicles.
GINA said that the Georgetown to Lethem road had been the main priority of a meeting between officials of Guyana and Brazil that led to the establishment of a border committee to focus on a regime for the frontier communities: Lethem and Bon Fim.
The laying of the 560 kilometres of fibre-optic cable from Brazil to boost Guyana's connectivity to the Internet was also part of the agenda.  That project began in the third quarter of 2012 and is expected to be operational by September this year.
GINA said that Teixeira told residents to be optimistic about this project, and about the opportunities that will be provided for communities in the hinterland where the cable passes through.
She stated, "Connectivity in terms of internet is critical in this modern world of technology… young people want twitter, blackberries and facebook… the internet is the gateway to information and also the possibilities and opportunities for this country to develop more industries and to create more jobs for our people."
Around the Web