The Society Against Sexual Orientation Discrimination (SASOD) is celebrating its 10th anniversary and is marking the occasion with a number of events, including a concert featuring award winning gay Guyanese artiste Nhojj and a photographic exhibition.
This was announced at a press conference hosted by SASOD at the Sidewalk Café.
The concert, which was held last night, featured Nhojj, who is also a member and long-time supporter of SASOD, along with Guyanese artistes including Natasha Yhapp, Keimo Benjamin, Lloyda Nicholas, Isaiah Luther, Maria Rosheuvel, Anthony Stayman and Francis Bailey.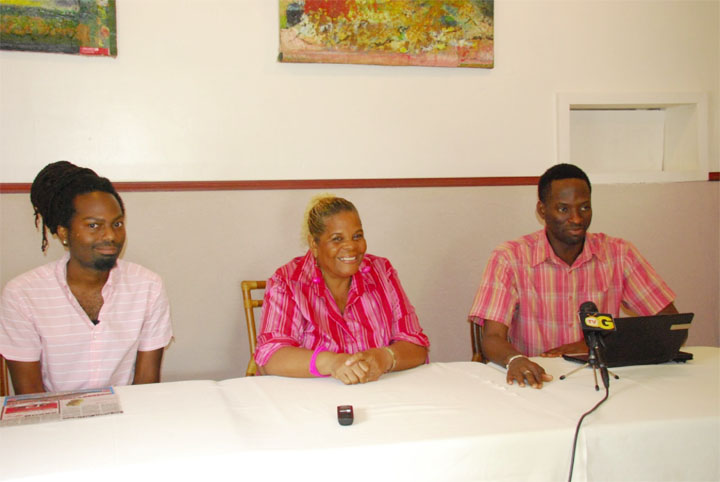 Also among the events to continue SASOD's month-long anniversary celebration is the annual film series "Painting the Spectrum".
According to SASOD member Joel Simpson, this year's feature documentary You Are Not Alone deals with the issue of depression in black gay men. "This will be followed by a panel discussion with Guyanese producer, Antoine Craigwell, Nhojj, who wrote and sang the documentary's theme song, psychologist Dr Faith Harding and others," Simpson said.
He said SASOD will also re-screen its 2011 documentary, My Wardrobe, My Right. Simpson noted that the documentary addresses the implications of cross-dressing in Guyana, and said the timing is opportune "as it coincides with the current constitutional case involving Quincy McEwan, Seon Clarke, Joseph Fraser, Seyon Persaud and SASOD v. Attorney General in which four persons were arrested for violating section 153 (1) (xlvii) of the Summary Jurisdiction (Offences) Act. This law makes it a criminal offence for men to wear female attire and for women to wear male attire "in any public way or public place, for any improper purpose."
On June 24, SASOD will host a Photo Exhibition and Appreciation Awards Ceremony at Moray House Trust, Camp and Quamina streets. On the same day, it will launch a documentary called SASOD at 10, produced by Gordon Moseley, and assisted by Alana Da Silva.
Around the Web