The government has not done enough to ensure that a regulatory framework is in place to oversee the exploitation of the country's natural resourc-es, according to opposition leader David Granger, while AFC leader Khemraj Ramjattan says that regulatory agencies lack independence.
Their comments follow statements by UNDP Country Representative to Guyana Khadija Musa who on Wednesday urged Guyanese to be wary of foreign investors buying up natural resources. "Governments have to be really careful when powerful countries with plenty of money come and buy your natural resources. That means you are losing control over it for the future," she said, while adding that Guyana's natural resources are the key to further development and they need to be maintained and respected.
In response, Minister of Natural Resources and the Environment Robert Persaud had said that the creation of his ministry meant Guyana was taking an active role in the future development of its resources. "I want to give the full assurance on behalf of our government: we are open to foreign investment but we are not open to selling our souls and ourselves and our future," he stated. Foreign investors are bound by local legislation and "we will not jeopardize the future of our country," he added. Persaud said Guyana was not "desperate" and his ministry had no plans to "bargain out our natural resources for the sake for a few dollars."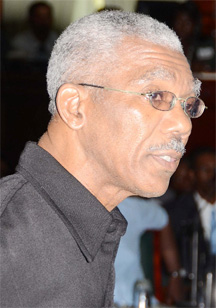 Increasingly, large sections of forestry and mining concessions have been apportioned to Chinese and Canadian companies in recent years.
Granger told Stabroek News yesterday that all developing countries ought to have a sound regulatory framework in place to oversee the utilisation of their natural resources. He said that Musa's statement was clear and "I don't see any hidden meaning in it."
Granger said that it was a general statement and all Guyanese should be alert to corporations and their actions. He added that he did not believe that Musa's comments were directed to any particular section of investors.
The APNU leader referred to several instances citing the unsettled labour dispute involving RUSAL bauxite workers that has been ongoing for five years and the underpayment of workers by the Chinese firm Bai Shan Lin. He also noted that the exploitation of resources has been ongoing in the hinterland, which is now a "zone of rampant crime," while economic crimes also ought to be tackled.
"Government has not done enough," Granger said, adding that it has to take the lead in ensuring that a framework is in place. He repeatedly emphasized that APNU is not against foreign investment. "We are against mistreatment and exploitation of Guyanese workers," he said.
Meantime, Ramjattan said that he believes that Musa has Guyana at heart particularly in the light of "secret deals" involving allocations of forest and mining resources to companies. "I support her general caution that we must not give away the patrimony… of this country," he said.
The AFC leader said that coming from the African continent, the UNDP representative would have had seen exploitation and its effects with the elite benefiting and the poor gaining nothing. He said that there is a similar case in Guyana, with highly-placed officials benefiting from handing out resources to some companies due to "kickbacks and drawbacks".
"A huge set of our resources are being handed out," he said. "We don't see the benefits of those things."
He noted that the UNDP representative was not stating that there must be a halt to foreign investment. Ramjattan said investments must come with a social conscience and companies must pay their taxes. He pointed out that some companies are not even registered in their stated country of origin but in tax havens instead. In addition, he said some companies want to escape the scrutiny of their governments and labour laws and international standards which they do not meet. Companies are here to make a profit but they must not exploit Guyanese, he asserted.
According to Ramjattan, there are connections between certain government officials and some companies and he said circumstantial evidence makes it clear that some officials who had nothing are now living a grand lifestyle.
He said he has no faith in the regulatory framework and in some cases it is like notorious Colombian drug lord Pablo Escobar being placed in charge of a drug enforcement agency. Many of the individuals on regulatory boards, such as the Guyana Geology and Mines Commission, also have no independence "and they are not transparent when you ask them questions and, they are to my mind, heavily-politicised," he said. "They do not have a culture of independence and objective thought," the AFC leader asserted. He noted that before being granted licences, the credentials of companies should be checked and the criteria and process must be transparent.
Additionally, Ramjattan said that the Natural Resources and Economic Services committees of the National Assembly can scrutinise deals and "we will take them up."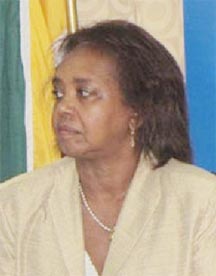 He said that the situation in the natural resources sector is just like what has happened with the radio licences, where the process lacked transparency. It is the "culture of third world politicians," Ramjattan said, while adding that firms with connections to the government are benefiting.
Around the Web