A detective yesterday afternoon lost all of his possessions and was left homeless after his Sophia home was gutted by a fire of unknown origin.
At the time of the fire, Criminal Investi-gations Department (CID) rank Mark Smith, a 33-year-old father of three was not home. But residents, on becoming aware of the fire just before 5 pm, spared no time in forming a bucket brigade until the fire tenders arrived.
When Stabroek News arrived at the scene there were three fire tenders and the firemen were being assisted by several residents to quell the blaze. By that time, however, the one flat wooden structure had already been reduced to rubble and attention was being given to the little pockets of fire that remained.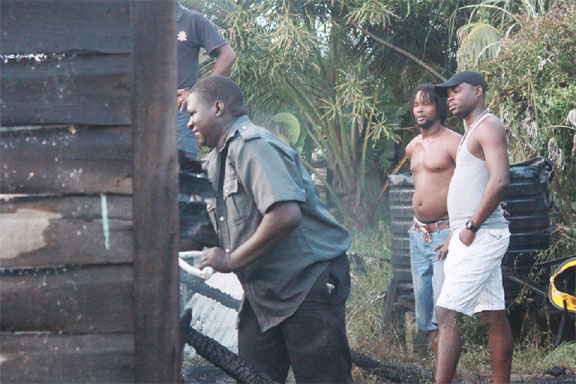 An emotional Smith, who lived alone at the Lot 190 Sixth Street property, said that he lost everything in the blaze. He recalled that he had left home some time after nine on Friday night. He said he was driving yesterday when he was informed that his home was on fire and when he arrived the house was ablaze.
Asked if he managed to save anything, he pointed to the vest and the three-quarter pants he was wearing. Smith said that among the items he lost were a brand new chair set, beds, clothing and appliances inclusive of a television, microwave and refrigerator. He said the cost of his clothing alone amounted to about $1 million.
Smith told reporters that he also lost his passport with a visa and other important documents.
He said that he moved into the structure in 2006 and last year he extended it.
One neighbour told Stabroek News that she was talking on her cellular phone when she became aware of a cracking sound. She said that at that point she thought that a cricket ball being used by children who were playing on the roadway, had hit a window. However seconds later she heard a child hollering for smoke and when she looked out she saw smoke and fire in the kitchen of Smith's home and immediately raised an alarm.
"I been bawling fire, fire all the time and people start to come out," the woman recalled.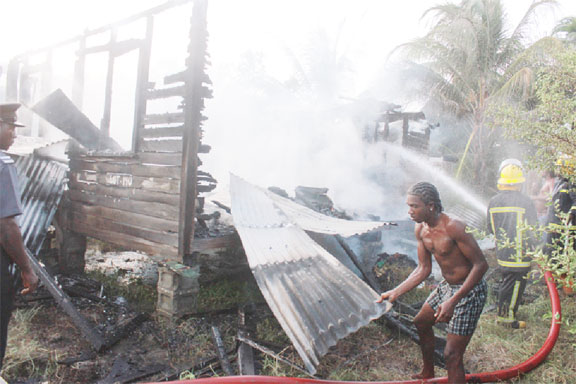 Another neighbour who helped the firemen douse the fire said that it took the fire tender 10 to 15 minutes to reach the scene. He blamed their late arrival on the poor state of the roads in the area. The man said that two fire tenders responded first; then a third arrived.
Around the Web