A Demerara Distillers Limit-ed Manager died on Saturday night after a speeding vehicle struck him down as he was crossing Sheriff Street on his way to his Garnett Street residence. Harrybarran Singh, 57 years old and who served DDL for over 37 years, was returning to his Lot 63 Garnett Street home when the car hit him, killing him instantly.
According to reports, the man was about to cross from the western side of Sheriff Street, in the vicinity of Francine's Fish Shop, when a car speeding north slammed into him. By the time persons rushed to his aid, his mangled body was already lifeless and it seemed as if he had suffered serious head injuries, the owner of a nearby shop told Stabroek News.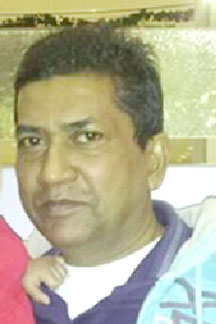 The woman said that no one had noticed the man and it was unclear if he was dropped off by a vehicle on Sheriff Street and decided to walk home, just a few yards in, or that he had come out of his home to purchase something. "Everybody know he but he drives so maybe someone drop him off and he decide to walk in the piece…he was friends with all these business people so when we rush out we know was who right away," she added. She said that the driver was a young man and that he appeared highly intoxicated, barely able to walk and that he kept holding his head as he watched the man on the road.
He was held by the police and after Singh was pronounced dead the driver was taken to the Kitty Police Station. He was given a breathalyzer test and according to police sources he was "way over" the legal limit. The source said he will be charged and placed before the courts today.
The father of three has no immediate family member residing in Guyana.
However, his sister-in-law Bigge and niece Renita were among others who gathered at his Garnett Street home yesterday and repeatedly expressed shock at his sudden demise.  Bigge said she learnt of his death around 1:30am yesterday when the man's daughter called from the United States to ask if it was true that he had gotten into an accident and died. She said she rushed to his home and was relieved to see his car parked in his yard. However her relief was short-lived as she constantly knocked on the door to no avail and was told by the neighbours that he was not there. She was advised to check police stations and the hospitals and after visiting the first station her worst fears were confirmed.
She said that Singh's wife was not taking his death well and that his overseas family and relatives were deeply traumatized. They are currently making arrangements to return home.
The relatives described Singh as kind-hearted and family oriented. They said that one month had not passed since he returned to Guyana after vacationing with his family. "He loved to dance, loved music there was never a dull moment around him. He was just perfect always wanted to ensure that those around him were having a good time and happy," his niece said.
Around the Web