Police Commissioner Leroy Brummel has ordered a probe into the alleged "roughing up" by cops of an elderly Guyana-born American.
"I told the Commander of that division (A Division headed by Assistant Commissioner Derrick Josiah) I want a thorough investigation…it seems clearly as if the police intervene for their friends or something. That looked as it was a private matter and they took it over…they are only to act if there is a law break like breach of the peace or something," Brumell told Stabroek News yesterday.
Last week, 81-year-old Guyanese-born American citizen, Edward Larry of New Hope, East Bank Demerara, said he was traumatized after police officers stormed into his home and attempted to drag him to a station without any explanation.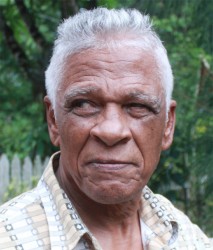 "I am barefoot in my home and the man just grab me and started pulling me, saying 'Big Man you gat to come to the station now wid we.' I was shocked and asked him why I was needed there because I didn't break any law… He said 'Shut up, you ain't hear wuh I seh ? Leh we go' and started pulling me as I am asking, you know, pleading with him to let me put on my shoes but he continued roughing me up," Larry recounted.
At the time, Larry noted, he was clad in his house clothes and had been speaking with a friend who had visited him because he was not feeling well. "The one—so unpolished, just 'Big Man this and Big Man that'—I tried, as he held on to me and chucking me up, to explain that I am old and I would come, 'let me put on my shoes,'" he recalled. "The other one that was with him looked at him and said 'Let the man put on his shoes. That is all he is asking.' And he then pushed me and I looked back at him," he added.
Larry later realized that the visit was connected to some lumber he had locked at a property he has at Friendship, which he had leased to a man to be used as a sawmill and lumberyard. He said that after six months of non-payment of rent, he decided to return to Guyana to address the situation. The man after promising to pay had moved out the day before he had promised to clear his debts.
However he left some lumber at the property which Larry confiscated. A man from Essequibo later turned up to claim the lumber was his and when he was told there was no arrangement between them and that he should check the tenant he became irate.
He returned with the police and Larry feels that the policemen were either friends of the man or were paid to do his bidding in intimidating him into returning the lumber.
The Commissioner of Police said that the report will soon be completed and if found culpable of any wrong-doing the ranks in question could be disciplined.
However, Larry said as of yesterday the police had not yet visited him to take a statement on events and that the lumber in dispute still remained on his property although he told the man to remove it.
Around the Web