Renowned Guyanese sociologist and author Kampta Karan died last Wednesday of a heart attack at the Skeldon Hospital. He was 56 years old.
His wife Deoranie Gobin Karran said that her husband's death came as quite a shock since he was not ill prior to his death. She described her husband as humble and kind. "He was one of the kindest persons I know, always loving and giving." She said that only weeks ago he was ordained as a pastor at Emanuel Lutheran Church in New Amsterdam.
According to one of his friends, Pastor Moses from the Lutheran Church, Karran was a humble and simple person. "He was a longstanding friend and a colleague in the ministry. He loved people, especially people with limitations and tried to help them as much as possible."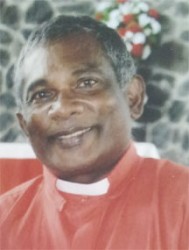 Another one of his oldest friends, Roopnarine Satram who knew him since the early 1970s said that Karran was so proud of his new status as a pastor, that he liked to be referred to as 'Reverend Kampta Karran'. He said Karran was a genuine seeker of knowledge and a keen listener. "He was always a people person and a great networker. He had objectives and he pursued them passionately… He will be dearly missed," he said.
Karran has a distinguished record in the service of local publishing in Guyana, where he edited and published the journal Offerings and was active in working towards a resolution to Guyana's ethnic conflicts. He lectured at the University of Birmingham from 1999 to 2002, before joining the University of Warwick Centre for Research in Ethnic Relations as the Warwick Postgraduate Research Fellow in 2002. He also wrote the piece "Wukman", which was a lamentation on giving directions to workers.
Karran holds degrees from the University of Guyana and the University of Warwick in the United Kingdom. He was working on his doctorate.
He worked at Guyana State Planning Secretariat in the 1980s, Office of the Prime Minister, School of the Nations and the Ethnic Relations Commission. He also lectured at the University of Guyana and taught A-Level Sociology.
He also published and edited a number of pieces such as No Land, No Mother and Race and Ethnicity in Guyana.
He is survived by his wife and four children, Kiran, Keoma, Kavita and Pollita.
Around the Web