Minister of Foreign Affairs Carolyn Rodrigues-Birkett says Government is still awaiting clarification from the Chinese Ambassador here on the exact nature of the financing for regional development projects announced by Chinese President Xi Jinping during a meeting with Caribbean leaders two weeks ago.
The Chinese leader committed some US$3 billion in grants and financing for projects in the region.
On her return from Trinidad where she along with Minister of Finance, Ashni Singh had accompanied President Donald Ramotar to the summit with the Chinese leader, Rodrigues-Birkett said that Government had sought clarification from Chinese Ambassador to Guyana Zhang Limin on whether the US$1.5 billion announced for infrastructure projects in the Caribbean would be concessional or whether it would be commercial. According to the Minister, the Ambassador is yet to send this clarification.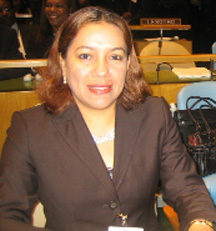 Government is to also hold meetings to determine what projects will be financed from both sets of financing. The Trinidad Express has reported that Chinese Ambassador to Trinidad Huang Xingyuan said that Caribbean countries with the best projects will get the opportunity to access the US$3 billion in concessional loans from China. According to the Express, the Chinese President indicated that Caricom countries that support the People's Republic of China's "One China" policy, including Trinidad and Tobago, are to benefit from US$3 billion in concessional loans from that country.
"Trinidad and Tobago, Jamaica, Suriname, Montserrat, Guyana, Barbados, The Bahamas, Grenada, Dominica, and Antigua and Barbuda support the One China policy, in which the People's Republic of China does not recognise a separate entity called the Republic of China which administers Taiwan," said the Express.
It said too that Belize, Haiti, St Vincent and the Grenadines, St Lucia, and St Kitts and Nevis maintain relations with Taiwan.
According to the article, Huang explained that there was no fixed allocation for any Caribbean country and that the "concessional" loans can be accessed on a programme or project basis.
Following the meeting with the Chinese delegation in Trinidad, President Ramotar had said that he and his team were very satisfied with the level of cooperation and agreed that it must be improved and make the relationship stronger.
"We also spoke about the possibilities of Chinese assistance in helping us with other important infrastructure, but as you will appreciate in the short space of time [during the meeting], no details could be worked out, but in principle, I think we agree that we need to work to build on these relationships, and that we will be ready to work together … and to also encourage Chinese companies to invest into other sectors in Guyana, that we are ready to have more Chinese companies investing in our country," GINA quoted Ramotar as saying.
The agency had also reported that the Guyana team took part in discussions on how the Chinese government could assist Guyana in infrastructure and in the transport sector.
Meanwhile, yesterday's Trinidad Express reported that Trinidad and Tobago is already beginning to put some TT$833 million of the US$3 billion in concessional loans from China to use.  Prime Minister Kamla Persad-Bissessar announced on Monday that Port of Spain will be able to immediately access TT$833 million of these funds to accelerate the development of Business/Com-mercial and Industrial Parks throughout Trinidad and Tobago.
"We will be building seven such parks on 592.1 acres of land representing an investment of TT$833 million. The leasable space on the estates would be 355.7 acres. This would give an immediate boost to our country's economic activity. We can do this within the next two years instead of waiting for this expansion," she said during her feature address at the opening ceremony for the Caribbean Investment Forum at the Hilton Trinidad, St Ann's.
Trade Minister Vasant Bharath, under whose purview these parks will fall, said he had already met with Chinese Ambassador Huang Xingyuan and the application process has already begun, with his hope to have things completed in four to six weeks.
Access to the loans, he said, was on a first come first serve basis, although he was not aware of if any other Caribbean country had applied as well.
Around the Web