Wherever you travel on the Essequibo island of Wakenaam, the cry for better quality roads, water, drainage systems and healthcare seems universal among residents, some of whom have resided on the island their entire lives.
"The water here is not very good," said one 69-year-old resident who, when Stabroek News visited her home last Thursday, said she had just finished scrubbing her bathroom. The woman said that the colour of the water they usually receive is bronze and stains her bathroom tiles and whatever else it is usually in contact with.
She added that the water would sometimes come relatively clear, but bronze sediments can be seen at the bottom of her buckets and other water containers once it settles.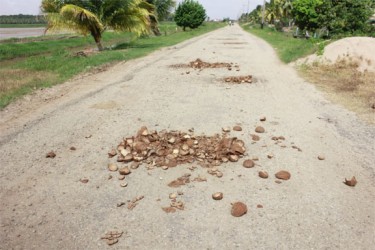 As such, she said, much of her time is spent using large amounts of bleach to scrub the tiles in her bathroom and other parts of her home with which the water is in constant contact. It is a difficult, but necessary process she said, and the constant use of heavy amounts of bleach continues to take a toll on her hands. Another resident lamented the quality the water currently received, stating the quality is the same as when water was first made available to the island.
Several residents also said the state of the roads left much to be desired. During a visit to Wakenaam last Thursday, Stabroek News observed that the entire stretch of road which runs through Maria's Pleasure particularly, was littered with potholes. Navigating the road seemed to be a laborious task to the many motorcycle owners who moved to and fro running their respective errands.
Reporters from Stabroek News were fortunate enough to experience the impact potholes had on minibuses and cars since these modes of transportation were solicited to navigate particular parts of the island. The driver of the vehicle moved to the side of the road in Maria's Pleasure in his attempt to find a route which was less likely to "test the mettle" of his shocks. Suffice to say, this effort was in vain as virtually no part of the road was devoid of a pothole or three. One passenger of the car likened the experience to being on a roller coaster.
Another resident, himself a shop-owner, lamented the conditions of the road as well as the negligence by those who bore the responsibility of ensuring that the community was serviced with a proper road. The man said that he helped the People's Progressive Party Civic (PPP/C) into power in 1992 and every elections since. As such, he said, he expected them to take better care of at least the road in the area.
The taxi fare to transport people and produce around the island is extremely high, presumably due to the condition of the road and in some cases some vehicle owners refuse to navigate the stretch of road in Maria's Pleasure.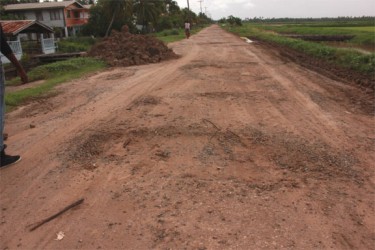 "Dem man does want a set of money to carry yuh and yuh tings them to the ferry when it come. But yuh can really blame them cause this road does bruk up yuh vehicle man. Dem man gotta ensure that they got dey monthly installments for dey house, dey monthly installment for dey vehicle and the monthly repair money for dey vehicle cause all they parts a bruk up steady."
Dust is also an issue since the road is unpaved in certain sections. One car driver was forced to stop for a few moments as he was exiting Maria's Pleasure after a dust cloud invaded the inside of his car, affecting his ability to see. Residents say that navigating the road is even worse when it rains since the water-filled potholes make it difficult to find and evade them.
On the issue of drainage, one woman said that while the island's overall drainage situation had improved over the years there is still much that can be done, particularly in the section of Maria's Pleasure where she lives. The lack of a proper drainage system, she says, causes water to rise quickly and remain for some time after the rains would have stopped.
Conditions at the Wakenaam Cottage Hospital were another concern. Residents said that while the hospital has a knowledgeable staff, it lacks the necessary equipment to holistically cater to the needs of the island's residents. One man said that it was not unusual for sick persons to get transferred to the West Demerara Regional Hospital or the Georgetown Public Hospital because the Cottage Hospital is unable to tend to their ailments.
"When people get sick at night they have to hire a speed boast to go to West Dem or Georgetown," said one man. He said that the transportation cost to do such is very high, especially at nights since it requires the chartering of a boat and securing private transportation from Parika.
When Stabroek News was on the island last week, the hospital's only medic was on leave and residents were informed that the hospital would only be tending to emergencies. It is unclear if/when the medic will be returning.
The provision of electricity was also a concern for residents. Currently the island receives electricity from 16:00 hrs to 8:00 hrs, except Fridays through Sundays, when electricity is provided around the clock.
Most of the island's residents have become accustomed to the schedule but said that it would be nice if they were able to get a few extra hours of electricity.
One man said that it would greatly help the schools in particular if the government were to find a way to provide electricity on Mondays through Thursday from at least 14:00 hrs. He said that Maria's Pleasure Primary School, for example, is fitted with computers which students are forced to use after school hours since the electricity comes on about an hour and a half after school ends.
An additional issue was the frequent cow thefts in the area. Maria's Pleasure is home to many farmers who rear cattle, and one farmer said that "cow thieving" is quite common. The man said that just earlier last week one farmer  lost two cows while another had lost six. There was also an incident where one farmer had two of his cows and a calf decapitated.
Residents however, despite the problems they encounter on a daily basis, maintained that Wakenaam is a lovely place and can become a thriving tourism destination. They said though, before this can become a reality, better infrastructure and utilities are in order.
"People are going to come here just because of the `countryness' of it, they  miss these things and are willing to come here for it, but before they come we must be able to provide better services," another resident said.
Around the Web