A woman testified yesterday that she saw her sister's ex-boyfriend stabbing her mother in their bedroom at Zeeburg four years ago.
Hameraj Rambachan is on trial in the High Court over the murder of Rajpattie Jagroop.
Yesterday, Basmattie Sewsankar, daughter of Jagroop, took the witness stand. She told the court presided over by Justice Brassington Reynolds that on the night of the incident she and her mother were at home and her sister Parbattie Ramlakan, who was once involved in a relationship with Rambachan, was at another sister's home.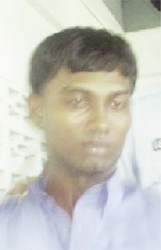 Sewsankar said that she had known the accused for over a year because he was her sister's boyfriend and used to visit their home. She said that prior to the stabbing, Rambachan called their phone and she told him that her mother said that he should not call back the number.
Sewsankar added that on the day of the incident, she had accompanied her sister to another's sister house a few villages away and returned home. She and her mother then took a bath and went into their home after which they secured the premises before heading to bed. According to Sewsankar, she and her mother would sleep together and after she went to bed she fell asleep. She was later awakened by screams and recalled seeing Rambachan on top of her mother, who was sitting on the bed, with a knife in one hand and the other covering her mouth as he stabbed her.
Sewsankar said that she turned to pull her mother away from the accused but he dealt her a stab wound to her shoulder and a chop to her head. Rambachan then fled the scene, she testified.
At the time the incident occurred, the witness said that they had no electricity but used two gas lamps for lighting. She said that one of the lamps was in the bedroom and the other in the living room.
Defence counsel Kim Kyte-John suggested to Sewsankar under cross- examination that she had told reporters of Kaieteur News that she sustained a hit to her head which caused her to blackout but she did not agreed with the suggestion. Prosecutor Renita Singh, who is presenting the state's case along with Dhanika Singh, objected to the suggestion. She said that putting such a suggestion to the witness which is based on a newspaper article is inadmissible but Justice Reynolds overruled it.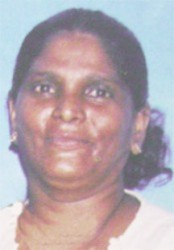 Additionally, Sewsankar admitted under cross-examination that she had told the Magistrate at the Magistrate's Court that the ordeal lasted for four hours but had said in her evidence that the time was 10 minutes. Singh then sought to clarify the exact time the incident lasted by asking the witness under re-examination to explain the two different times. Sewsankar then said that the correct answer was 10 minutes. Rambachan is alleged to have stabbed Jagroop to death between July 21 and 22, 2009 at Zeeburg, West Coast Demerara. The case continues today.
Around the Web