First Lady Deolatchmee Ramotar and the staff of Freedom House on Saturday joined in celebrating the 93rd birthday of Edmund Forde of Buxton, East Coast Demerara.
A press release from Freedom House said that Forde who has a street named in his honour in the village has been associated since the mid 1940s with the late Dr Cheddi Jagan and the Political Affairs Committee which preceded the establishment of the People's Progressive Party (PPP) in 1950. He has served as a grass roots activist for over 60 years and continues to serve by selling the party's weekly publication 'The Mirror' within his community.
The small gathering has become an annual event over the years and the sprightly Forde is always eager to engage in a conversation recalling his early struggles with Dr Jagan and the PPP.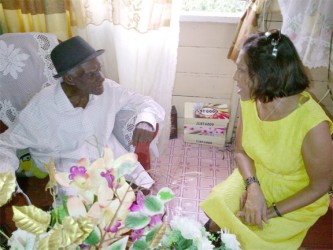 The release said that Mrs Ramotar, in presenting a token on behalf of her children and husband, said that the President was unable to attend since he was in the Rupununi.  She thanked Forde for his dedicated service to the party.
The staff at Freedom House presented the customary hamper and encouraged him to continue onwards to his century.
Forde in response thanked all his well-wishers. He said that providing he remains healthy he plans to attend the party's 30th Congress in August.
Around the Web