Winners of the Rotary Club of Stabroek's 2012 and 2013 national Peace Poster Competition were honoured last Wednesday at the Pegasus Hotel.
A release from the club said that the competition was an annual activity planned by the club to celebrate World Understanding Month observed during February.
The competition promoted Rotary's Fourth Avenue of Service – continued quest for goodwill, peace and understanding among people of the world. The initiative targeted young people aged 12-14, who were given the opportunity to visually depict their interpretation of the competition's theme. The theme for the 2012 competition was 'Volunteering to advance peace' while the theme for the 2013 competition was 'Peace through service.'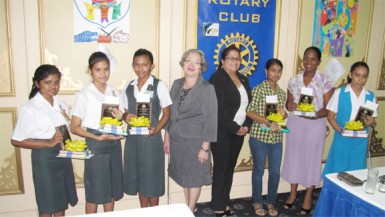 The release said that the posters were evaluated by a panel of judges and entries were judged for creativity, originality, artistic merit, expression of the competition's theme, explanation of artwork and presentation.
In the 2012 competition, Sarswattie Lall and Nireesa Persaud of Anna Regina Multilateral School won first and second place respectively; and Cindy Layne from Abram Zuil Secondary was awarded third place.
In the 2013 competition, Vaniesha Ramsaywack and Tricia Harris of St Joseph's High School won first and second place respectively while Keia Smith of Queen's College received the third prize. Cash prizes of $50,000, $30,000 and $20,000 were presented to the first, second and third place winners respectively.  All winners also received plaques and book awards. The release said that entries had been received from various regions of Guyana and they showed that young people had strong ideas about what peace means to them. The club was proud to have provided an opportunity for the nation's children to document visually their concerns and priorities concerning peace and goodwill.
The posters will be used for positive messages to promote peace, human rights and justice, and also to counter racism and intolerance.
Around the Web