Police Commissioner (ag) Leroy Brumell on Monday assured that police are conducting investigations into the June 1 acid attack on Mala Persaud even as the woman says that she is getting no help or assurances from the police.
When the woman's concerns were raised with Brumell, he said that the investigators are working on the case.
Persaud when contacted said that she is frustrated as the woman who she believes to be the mastermind behind the attack on her is yet to be arrested.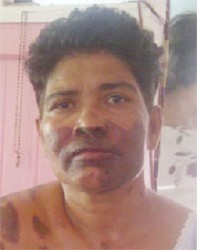 "I haven't heard nothing from the police. Up to now the police can't come to my assistance. They ain't come to ask me nothing and I want to know why the police doing this", she said, adding that since she gave her statement at the Kitty Police Station she is yet to receive a visit or a call from a rank.
She said she hasn't gone back to the police for an update and would not be going because "is done one week done and up to now they can't come to my assistance. Why did they not arrest her?"
Persaud had said that the attack was sparked by her repeated complaints about the noise emanating from a bar located near her Station Street, Kitty home. She had made complaints to the Kitty Police Station, the police commissioner, the Home Affairs Minister, the Office of the President, the Prime Minister's Office and the Police Complaints Authority, all to no avail.
While some of those contacted have acknowledged her complaint, no action has been taken even as Persaud and her family are continuously unable to sleep at nights and wake up next morning to the smell of urine and broken bottles in front of their gate.
She had recounted that she was taking the family's car out of the yard when a man with an umbrella and a tea cup in his hand arrived and called for cigarettes. This was sometime between 7.45 am and 8 am.
She responded that she did not sell cigarettes loose. The man according to her then said "watch this thing" before throwing the contents of the cup at her. The liquid burnt her face, shoulder, back, leg and chest.
The man then ran towards Vlissengen Road where the yellow taxi he had arrived in was waiting. The woman had said that the attacker strongly resembled a man she had seen the previous night with the owner of the bar.
She was rushed to the Georgetown Hospital where she was treated and sent away.
On Monday,  she said that she is living in discomfort as the burns are itching. She said she is forced to pat or used a cotton swab to rub rather than scratch as she does not want them to become infected.
She said too that the top of the burns are peeling and she is struggling to breathe.
Around the Web