Demerara Distillers Limited has issued a statement expressing its profound sadness at the passing of its Chief Accountant, Harry Barran Singh, 57, who died in an accident on June 8, 2013.
The management and staff of DDL and Subsidiaries extended deepest condolences to the wife, children and other relatives of their departed colleague and friend.
The statement said Singh was "a valued and long standing member of the DDL team." 'HB,' as he was known, started to work for the forerunner of DDL, Guyana Distilleries Limited (part of the Bookers Group) in 1973 as a messenger in the bottling plant.  He worked his way up while qualifying himself in many posts from Accounts Clerk to Financial Accountant.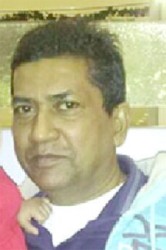 In April 2007, he was appointed Chief Accountant of DDL and Subsidiaries, a position which he held until his death.
The statement said that Chairman of DDL Dr Yesu Persaud noted that "HB's sudden death is shocking to all his colleagues, especially Finance Controller Vasudeo Singh, and the members of the Finance Department, many of whom he has mentored in his almost forty years with the industry."
Singh died  after a speeding vehicle struck him down as he was crossing Sheriff Street on his way to his Garnett Street residence.
Around the Web