The AFC yesterday called on government to seek tax waivers for the Guyana Power and Light Inc (GPL), reform its management and make advance payments by state agencies as alternatives to the 26.7% tariff increase proposed to keep it financially viable.
As the party intensified its call for the sacking of the power company's Board of Directors using its "Switch off the Board" plan, it said that government can seek tax waivers and aggressively deal with debt collection from entities to offset its expenses.
"The AFC therefore rejects the unjust 26.7% tariff increases and the government's attempt to lay blame on the opposition. Both the board and CEO of GPL should be dismissed for bad management,"
"Rather than the Minister of Finance going to Freedom House… he should have walked over to GRA (Guyana Revenue Authority) and say 'in the interest of the nation and to ease the burden of the working people, we want you to defer or cancel any monies owed by GPL to the GRA,'" Party Executive Moses Nagamootoo said yesterday at a press conference.
AFC leader Khemraj Ramjattan opined that if GPL's management was aligned, there would not be a financial problem at the company. After years of  losses, the company was yet to implement plans to deal with these, he, however, said. "GPL did not reduce electricity theft, especially commercial theft which remained fixed for two years at 17.0%? This negligence caused G$2.4 billion in lost revenue…GPL did not reduce line losses, which worsened from 11.4% to 14.6% over five years? This neglect triggered G$1.4 billion in lost revenue," he said.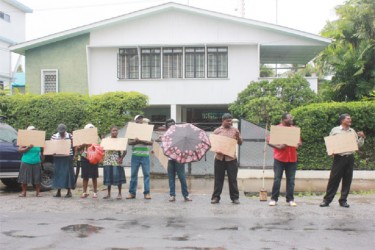 "The AFC notes that in addition with anticipated decreases in the price of fuel internationally, GPL will save approximately $ 1.5 billion this year. Why therefore do we need to increase rates?" Ramjattan questioned.
Further, he said that prior to the cutting of the $5.2B subvention during the consideration of the budget estimates, GPL was asked to submit a report on its current state of affairs and address concerns detailed but the National Assembly is still to hear from them. "GPL was asked by Parliament to address, comprehensively, the above concerns before asking for more monies. To date, GPL has submitted no further information or proposed work plans to the Parliament", he noted.
At the press conference venue, Sidewalk Café on Middle Street, about a dozen protestors laid the blame for the proposed increase on the AFC, saying that because of the budget cuts they are made to pay.
As Ramjattan and reporters attempted to communicate with the protestors, they began hiding their faces with their placards and some walked away. Leader of the group Ossie Rogers shied away from questions about the state of GPL and if he was there because of political reasons, saying "I am dealing with [a] bread and butter issue here… we have to pay more on the electricity bill and we are saying the budget cut is responsible for the 26.7 % more."
However, Ramjattan believes that monies allocated to government agencies should be used to pay off their debts. "They are saying that our cut of $5.2 billion is what is causing this, well please pay GPL your year's bills because we already allocate that in the budget for them," Ramjattan proposed.
He also pointed to the GPL's CEO's monthly salary, saying that for the $4M he receives monthly along with free housing, transportation and other fringe benefits, he should give value for money and since this was not the case he should be fired.
Around the Web