The ten top students from Region 6 at this year's National Grade Six Assessment (NGSA) are proud of their achievement and believe that their hard work and long hours of study were rewarded.
They are Renee Bisnauth (540), Kadeem Lewis (533), Ebonie McNeil (532), Melisa Rama (531), Tejesh Goberdhan (528), Kiana Samuels (526), Shanice Henry (525), Asaf Ali (525), Jenise Hinds (525), Kensel Johnson (523) and Yugetta Kumar (523).
Renee Bisnauth who topped the Region told this publication that while she is extremely happy with her performance, she was a bit disappointed, since she had aimed to be among the top five students in the country.  She is one of three candidates who shared the ninth position in the country. The overjoyed but humble student said she learnt of her success through a teacher who had checked online and informed her. "I did not believe at first but then I heard some other teachers talking and I felt really, really happy," she said.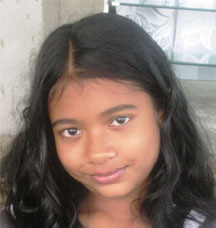 Bisnauth said she began intense studying a month prior to the exams. Her routine was to get up around 5.30 am and put in an hour of study before heading off to school. After school, she would attend lessons and later at home at night she would do past papers with the help of her father.
Bisnauth credits her achievement to God, her parents, and teachers including her Headmaster, Leroy King.
Kadeem Lewis of Alness Primary brought second in the region. When Stabroek News visited Lewis, at school, he declared, "I don't have the words to describe my feeling right now." He said that he was overwhelmed with his performance. He said that he had learnt of the good news on Friday when a cousin called him after he got home from school. "I believed her, but I had to confirm for myself," he said.
Lewis told this publication that although he found the exam to be simple, a few questions on the English paper were "really challenging."
He credits his success to his teachers, parents, grandmother, his aunt who had helped him along the way, and most of all to God who has given him the strength.
The aspiring doctor said that he would be attending Queen's College.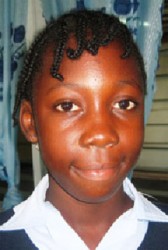 Ebonie Mc Neil, who placed third in the county, related to Stabroek News how she felt. "I feel very proud of myself. I never expected it… it was a surprise".
The aspiring doctor said preparing for the exam was not an easy journey as she would "wake up early mornings and study late at nights. I would also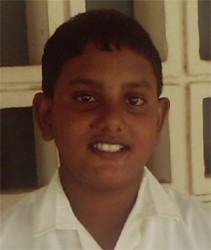 call on my teacher who would explain stuff to me over the phone. I took extra lessons too to prepare myself for the exam".
She expressed thanks to God, her parents, teachers, especially Miss Theresa Perreira. "They have all helped me to be successful and I have to thank them.
Later on Monday, during the lunch period at Crabwood Creek Primary, Stabroek News caught up with Melisa Rama, who placed fourth in the region. Rama, flocked by her peers, declared that she feels great and was happy about being among the top students of the region.  She said that the exams were "alright," except for Social Studies which was tough but she still managed. Rama said whilst preparing for her exams she "studied hard and prepared for whatever would have come," and added that she tried to stay confident in herself.  She also said that she had worked a lot of past papers.
The Crabwood Creek Primary student added that she did not expect to be among the region's top ten students.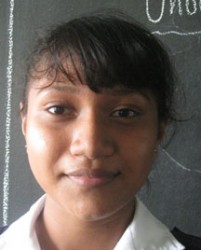 Asked if she would be going to a Georgetown school she responded that she doubts it, indicating that most likely she will attend the Skeldon Line Path secondary school.
Rama thanked her parents and teachers who worked and encouraged her and gave her the confidence to push forward.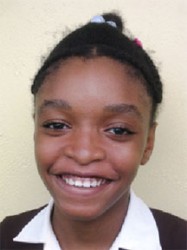 In a telephone interview, Tejesh Goberdhan of Cropper Primary who got the fifth place in the region, said he is "a bit happy with my performance… but I was expecting something better… like being on the list of the country's top ten."
Goberdhan said that preparing for the exam was not tiring at all. However, he noted that he studied from 7.30 to 9.30 pm every night.  He also said that he had not taken any extra lessons unless it was offered by his school teachers.
The lad thanked his parents and teachers, Sharon Durant and Savitri Madramootoo who had helped him every step along the way.
Meanwhile, Kiana Samuels, from St Therese's Primary said, "I am just excited to be among the ancient county's list of top students."  Samuels, who placed sixth, explained she heard the news from her mother when she had returned from school on Friday afternoon.  "I acted the normal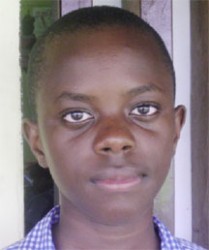 when I heard but I had to confirm it for myself."  The bold student noted that she had expected to be among the top students, since she had studied very hard and aimed for a position in the top students' list.
Asked what it was like preparing for the exams, she responded, "It was very tiring, since I felt tired many of days. I would read in the afternoon
after lessons unto 9.30 pm. I had to sacrifice a lot of my free time and study for exams."  Samuels also said that the mathematics paper had tested her since the questions were tricky.
Kiana thanked Miss Surya, her grandmother, parents and everyone who helped her to prepare for the exams including the other teachers from her school.
The aspiring lawyer or doctor said she would be attending Queen's College.
Meanwhile, Asaf Ali from Tain Primary said he worked hard in preparation for his exam, noting that  like his fellow top students he studied late at nights, early in the morning and took extra lessons.
He credits his success to his parents, teachers of Tain Primary and especially Sir Amit Budram who has helped him in every way and most of all God for giving him the strength and ability.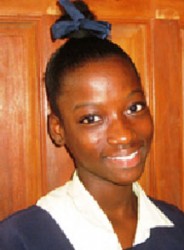 Jenise Hinds, who tied for seventh position in the region, explained that the feelings she had were "great and exciting." The St Therese's Primary school student said she was overjoyed and proud of herself and her achievement.
Hinds related that she had worked hard and had missed out on a lot of hours of sleep in the nights and early mornings. She found the exams to be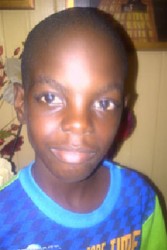 a bit challenging but said she knew the answers to most of the questions.  She found Social Studies to be the most challenging of all the subjects.
When asked who informed her of the news she replied, "Miss Surya called and started to congratulate me and told me I did well… you made it. Then I went online and saw the results. I was excited and felt energised." The prospective Bishops' student said she was sleeping when the call came.
"I want to thank Miss Christina, my mom and grandmother along with relatives, also Miss Surya."
The student said she is hoping to become a teacher and one of the leading lecturers at the University of Guyana.
Shanice Henry of Edinburgh Primary who shared the seventh spot with Hinds expressed her excitement saying that she was overjoyed to be on the list of the top students in Berbice.  She noted she had expected to be successful but was surprised with her performance.
Henry said her hard work paid off explaining that she had to "give up things she loves to do and study late into the nights."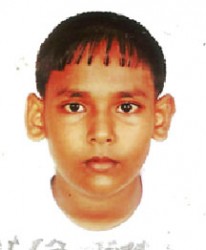 She credits her success to the Almighty father, her parents, and her family especially her cousins, Andrew and Dwayne who taught her things she did not understand, her teacher, Sir Roger and all the teachers who taught her from grade one to six; also Miss Audra for always encouraging her to do her best and stay confident.
The future medical doctor indicated that she would be attending the Georgetown school she was given.
Taking the final two spots in the Top 10 students' list for Region 6 were Kensel Johnson from School of the Nations Berbice and Yugetta Kumar from Crabwood Creek Primary.
The excited Johnson said he had expected to be a successful candidate at the exams.  He noted he studied hard and had put in a lot of extra hours in preparing for the exams.
This publication was told, "My parents helped me to study hard… worked a lot of past papers at school and home." He also indicated that the English paper was difficult but the Mathematics was simple and he enjoyed it.
The happy student said when he heard of the news he jumped up and started to scream as he was over excited with his performance.  He learnt of the news from a teacher who called.
"I would like to thank God for giving me the ability to remember, Sir Razack, along with my parents and other teachers," he said.
Meanwhile, Johnson's mother said she was on cloud nine.  She noted it was her first time preparing a child for an important exam.  The overjoyed mother indicated that she had expected him to perform well but did not expect him to get a place in the top students' list.
Kumar who was also flocked by her classmates expressed joy in being a Berbice top student.  She heard the good news after she came home from school.  She noted she was confident in herself.  "I am really overjoyed with my performance."
She added that during her preparations for the exams she studied late in the nights and took extra lessons.
Her parents, grandparents and teachers of the CWC primary school were all acknowledged for their contribution to her performance.
Around the Web