Reports say that Joseph, on Wednesday afternoon died after she ended up in the path of the propeller of a single-engine Cessna 172 aircraft that had just landed at the Ekereku Airstrip, Cuyuni, Mazaruni.
Works Minister Robeson Benn through GINA had announced that a team from the Guyana Civil Aviation Authority (GCAA) would have gone into Ekereku yesterday to determine exactly what  led to the girl's death. When contacted yesterday afternoon. GCAA Director General Zulficar Mohammed had said that he was unable to give an update on the incident, but said that the information could be provided when the team from the agency returned from the scene later yesterday afternoon.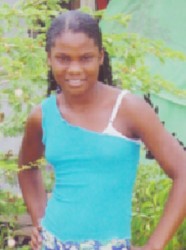 Calls to Mohammed yesterday afternoon and evening however, proved futile.
The young woman's relatives also said that apart from being informed that the girl's body has been transported to the Lyken Funeral Parlour, they have not been briefed on what led to her death.
One aunt said that  several relatives journeyed from Timehri to Lykens yesterday to identify Joseph's body. She said however that they arrived at the parlour too late and were told they will have to return early today.
Meanwhile, Crime Chief Seelall Persaud told Stabroek News that the Police were continuing their investigation into the girl's death. Persaud said though that acquiring new information from investigators in Ekereku was proving difficult as a result of the remote nature of the area.
Around the Web