Murder accused Noel Adonis will know his fate today after Justice Navindra Singh sums up the evidence in his case before handing it to the jury for deliberation and a verdict.
State prosecutor's Natasha Backer and Tishana James closed their case yesterday after which Adonis was called upon to lead his defence.
Adonis, who is on trial before Justice Singh and a jury for the murder of Ishwroutie Deonarine, chose to remain silent when he was called upon to lead a defence.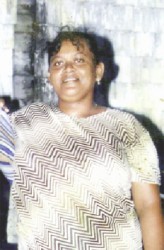 Adonis is accused of killing Deonarine by hitting her with a piece of wood on September 9, 2007 at the Queen's College compound. The woman died five days after as a result of her injury.
Earlier in the trial, mother of the deceased Liloutie Deonarine testified that she saw when Adonis delivered the fatal blow to her daughter with a piece of wood.
She said that Adonis went to their home on the day of the incident and was talking to her daughter on the step of the house, after which both of them went downstairs where they continued to talk.
As they were talking, Deonarine said, she was looking through a window when she saw Adonis hit her daughter with a piece of wood to her head causing her to fall. He then ran away.
Around the Web