The Governor of the State of Roraima, Jose de Anchieta Junior was in Guyana yesterday for a meeting with President Donald Ramotar on key infrastructure projects in the making, according to the Government Information Agency.
GINA said that the Governor met the Guyanese Head of State in the company of a delegation that included Brazilian Ambassador to Guyana Luiz Seixas De Andrade.  It said that the Georgetown to Lethem road, the deepwater harbour and hydroelectricity were high on the agenda.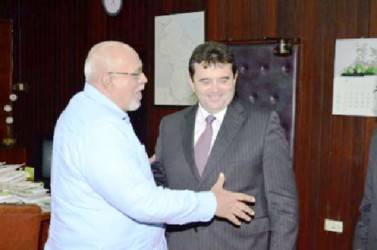 GINA noted that the two countries had set a June target by which the anticipated proposals including timelines for implementation of the major infrastructural projects would be reached. The working group was operationalised with the signing of a  Memorandum of Understanding (MoU) between Guyana's Minister of Foreign Affairs Carolyn Rodrigues-Birkett and  the Brazilian Minister of External Relations, Antonio Patriota in December last year. It was agreed then that the group submit its Report by the first quarter of 2013.
Around the Web