Elon Isaacs, the 32-year-old mini bus driver who smashed into a lantern post after he went for a joy ride with an All Terrain Vehicle (ATV) on June 2 at Supply, East Bank Demerara succumbed to his injuries on  Monday night at the Georgetown Public Hospital.  Isaacs, of Lot 44, Supply, East Bank Demerara was in a coma in the High Dependency Unit since the accident.
Isaacs's aunt, Merlyn Melville told Stabroek News that she got a call from her nephew in law on the night of the accident. "He call and tell me that Elon was in an accident and I should come down to the Diamond Hospital." She said that when she went to the Diamond Hospital she was told that he had to be transferred to the Georgetown Public Hospital because of the severity of his injuries.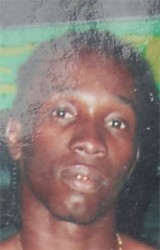 She said that on the day he died he actually opened his eyes for a brief moment. "He gave us hope that he was going to be okay because he opened his eyes that day. All the time he was in a coma. He fooled us," she said. Melville added that the doctors said he had a fifty-fifty chance of survival.  "Although he never opened his eyes, he used to be grasping at us when we held his hand. We really thought he would have made it."Melville said that it was around 9 pm on Monday a nurse called them and said that Isaacs had died.
Around the Web