With the formal announcement of his candidacy for head of the Private Sector Commission (PSC), Georgetown Chamber of Commerce and Industry (GCCI) President Clinton Urling has outlined plans to enhance the effectiveness of the body, with a view to ensuring a stable social and economic environment for businesses to bloom.
The GCCI, in a statement on Monday, formally announced that Urling would be contesting for the post of PSC Chairman at the PSC's AGM on June 25, 2013. He is likely to contest against incumbent Ron Webster.
The GCCI statement said that over the past year and under Urling's leadership, it introduced a number of changes and initiatives that have resulted in enormous value for its private sector members and the wider society as a whole.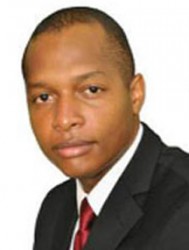 "The Chamber has also maintained good cordial relationships with important policy and civil stakeholders," the GCCI said. "Mr. Urling intends to extend the same level of leadership to the PSC by working with its membership and other stakeholders to ensure a stable social and economic environment for businesses to succeed," it added.
In what is being labelled a Six-Point PSC Strategic Focus 2013 – 2014, Urling pointed to a number of issues and laid out how he will go about addressing them as PSC Chairman
.
First, he wants to strengthen the PSC's Secretariat so that it can effectively support and sustain growth. He wants to hire additional staff to ensure that decisions, programmes and projects of the Commission are implemented on a timely basis and reduce the need for the Commission's functionality to be solely dependent upon the Council and to include the Secretariat more extensively.
Urling also wants to see enhanced research capacity and policy development to support advocacy, and he wants to raise substantial and sufficient funds to ensure the PSC's fiscal viability and organisational health.
He further said that he wants to place more emphasis on implementation to ensure that the PSC's strategic goals are implemented on a timely basis and in an accurate manner.
He said he would engage in resource mobilisation and adopt initiatives to increase and diversity the PSC's financial resources. He said he plans to engage the donor community and host annual events that target corporate recruitment and sponsorship.
He also said that he would focus on members' needs, retention and involvement by arranging more frequent engagement activities and consultations involving the membership.
"[I intend to] keep members informed on issues affecting their respective industry/trade sectors and businesses; use polling and surveys to capture empirical views, concerns, beliefs, and attitudes of the private sector; invest in teleconferencing technology that allows for meetings away from the boardroom,"  said.
In terms of public communications, Urling said that he will be implementing a public communications strategy to educate the public about the role and work of the Commission.
"This would be achieved through regular press briefings, updated website presence, television programming, social media efforts on various platforms, and similar activities," he said.
He also said that he will press for constitutional reform by completing and institutionalising a process begun previously "so that the Commission is better equipped to address current realities associated with its vision, mission, and objectives."
Urling, the proprietor of German's Restaurant, was recently re-elected to serve a second term at the helm of the GCCI and is a Vice-Chairman of the PSC. He is also the Deputy Chairman of the PSC's Trade and Investment Committee.
Around the Web