The World Health Organisation (WHO) is observing the 10th anniversary of World Blood Donor Day today to raise awareness of the need for safe blood and blood products and to thank voluntary unpaid donors for their life-saving gifts of blood.
The transfusion of blood and blood products help save millions of lives every year. "It can help patients suffering from life-threatening conditions live longer and with higher quality of life, and supports complex medical and surgical procedures. It also has an essential, life-saving role in maternal and perinatal care," the WHO said in a press release.
However, in many countries, there is not an adequate supply of safe blood, and blood services face the challenge of making sufficient blood available, while also ensuring its quality and safety. An adequate supply can only be assured through regular donations by voluntary unpaid blood donors.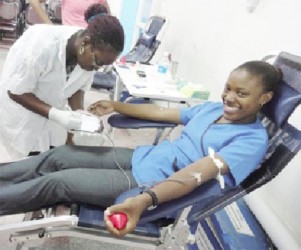 WHO's goal is for all countries to obtain all their blood supplies from voluntary unpaid donors by 2020. However, today, in just 62 countries, national blood supplies are based on close to 100% voluntary unpaid blood donations, with 40 countries still dependent on family donors and even paid donors.
As a result, the objectives of this year's campaign are to promote voluntary blood donations and to convince ministries of health to commit to achieving self-sufficiency in safe blood and blood products based on 100% voluntary unpaid blood donation.
"Blood collection from voluntary non-remunerated blood donors is the cornerstone of a safe and sufficient blood supply in all countries. More voluntary blood donors are needed to meet the increasing needs and to improve access to this life-saving therapy," WHO said. It also noted that a reliable supply of safe blood can only be assured through a stable base of regular, voluntary, unpaid blood donors. "They are the safest group of donors because the prevalence of blood borne infections is lowest among them," the release said. The WHO urges member states to develop national blood systems based on voluntary, unpaid donations to achieve the goal of self-sufficiency in safe blood and blood products.
A single unit of blood can benefit several patients
Separating blood into its various components allows a single unit of blood to benefit several patients and provides a patient only the blood component which is needed. About 97% of the blood collected in high income countries, 78% in middle-income countries and 40% in low-income countries is separated into blood components.  Around 107 million blood donations are collected globally every year. About 50% of these are donated in low and middle income countries where nearly 85% of the world's population lives; however the average blood donation rate is more than nine times greater in high-income countries than in other countries.
Screening
All donated blood should always be screened for HIV, hepatitis B, hepatitis C and syphilis prior to transfusion. Yet 25 countries are not able to screen all donated blood for one or more of these infections. "Testing is not reliable in many countries because of staff shortages, poor quality kits, irregular supplies, or lack of basic quality in laboratories," the WHO said.
France is the host country for World Blood donor Day 2013 and a global event will be held in Paris tomorrow.
Around the Web