A speedboat captain died yesterday afternoon after another boat collided with his in Supenaam Creek, Essequibo River, where he had stopped to fix his malfunctioning engine.
Ganesh Roopnarine, 32, of Barnwell, East Bank Essequibo and originally from Affiance, Essequibo Coast, died in transit to the Suddie Hospital shortly after 5 pm, his family said.
He was officially pronounced dead when he arrived at the hospital.
"We left from Supenaam heading over to Parika when in the creek the engine start mek like a soft sound then cut out… 'Shines' gone to the stern and then we hear the motor of another boat but it happen so quick that like next thing he overboard and people screaming all over," Dolly (only name given) told Stabroek News last evening.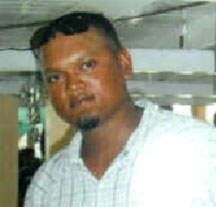 She said that when the captain was pulled out of the water he was still alive, but it appeared that he had suffered internal injuries, because he held his stomach before losing consciousness. He was placed in the speed boat and taken to land, from where he was rushed to the Suddie Hospital.
The eyewitness said that all 18 passengers of Roopnarine's boat and of the boat that collided with him were wearing lifejackets.
Suresh Singh, owner of the vessel 'Water Girl,' said he received a phone call shortly after five informing him that his boat had been involved in a mishap. He said he rushed to the Suddie Hospital after he learnt that his captain would be taken there. However, by the time he got there the man had already died.
He described Roopnarine as a dedicated worker, who during his eight years of employment with him formed such a close relationship that he no longer referred to him as an employee, but as his brother. He said he was still in shock and did not know if he would find a replacement of Roopnarine's calibre. "I taking this thing real hard. He was like family… I never had any problem with him; none, none. I don't know what will happen now," he said.
Roopnarine's wife, Christina, wept as she spoke with this publication via phone. She noted that she was still in shock and struggling to cope with the death of the man she married and had been living with since she was 13-years-old.
She said she received a message from a stranger who told her she should rush to the Suddie Hospital as her husband had been in an accident. Before she could reach, she got another call from a friend saying her husband had passed.
When she viewed his body at the morgue, she said, there appeared to be no physical injuries. "He looked so peaceful as if he just sleeping, you know, nothing ain't on his body," she said.
She explained that their seven-year-old daughter Shania, who was "her father's everything," was "not taking it well at all."
Maritime Safety Director Stephen Thomas informed that his agency was carrying out an investigation into the accident, while an autopsy will be performed on Roopnarine's body on Monday.
Around the Web