A seemingly catatonic Shameer Ali, accused of murdering his common-law wife and then slitting his own throat at Kuru Kururu Squatting Area on the Linden-Soesdyke Highway, was yesterday arraigned on the capital charge.
Ali, 40, was barely responsive during his appearance at the Georgetown Magistrates' Court, where Chief Magistrate Priya Sewnarine-Beharry voiced concern over his condition.
It is alleged that on June 8, at Kuru Kururu Squatting Area, Linden-Soesdyke Highway, he murdered Shaneza Ramdat. Ramdat, called 'Reshma', 23, was found dead in her yard about 12 pm by her brother minutes after she was killed.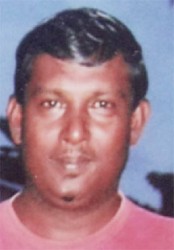 Ali, who had to be lifted into the courtroom on a chair, appeared frail and half-awake when the matter was called, forcing the magistrate to repeat his name three times.
The magistrate asked prosecutor Vernette Pindar about Ali's condition and was told that the prosecution was not in possession of a medical, but that Ali was discharged from the hospital and sent to the police station and subsequently brought before the court.
After a few more failed attempts at communicating with the defendant, the magistrate asked about his hearing and speech and was informed by the prosecutor that, "He can hear. He signals by raising his eyebrows."
"I need to know that he understands what I am saying," the magistrate said. "He seems to have fallen asleep."  Ali was completely unresponsive at this point.
All eyes were on the defendant, who sat with a bag of clothing on his lap. Pindar as well as the entire courtroom appeared bewildered. Court orderlies had to alert Ali by touching him and then he moved.
The magistrate was forced to leave the bench and walk over to where the defendant was seated, stand directly in front of him and she read the charge. She asked him to shake his head in acknowledgement of what she was saying but Ali seemed unable to do this.
He was then instructed to open and close his fists to show that he understood what was being read to him.
Ali, who by this time appeared visibly shaken, managed to do this after the Chief Magistrate read the charge. Ali was told that it is an indictable offence and he was not required to plead. Bail was refused.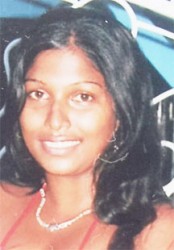 Returning to the bench, Magistrate Sewnarine-Beharry expressed concern over Ali's condition and his ability to be cross-examined, citing that the Legal Aid Clinic should be contacted to provide legal representation for the accused.
She then asked the prosecution to return later with the medical so the court could decide on the best date to fix the Preliminary Inquiry.
A sudden and uncontrollable burst of rapid snorts and sneezing was then heard coming from the defendant, startling the court and briefly interrupting the magistrate.
The next hearing is set for June 24 for report on the condition of the accused and to finalise the appropriate time for the commencement of the PI.
The prosecution, in agreement, said a medical will be needed to ascertain his condition because the prison would not accept him as he is.
Ali had been in a critical condition at the Georgetown Public Hospital where he was being treated for a slit throat. He was also believed to have ingested a poisonous substance and was under police guard.
In a release, the police said that Ramdat had an argument with her common-law husband during which he allegedly stabbed her to the neck and other parts of her body. The police said Ali was subsequently found in some bushes a short distance away with a wound to his throat that was suspected to have been self-inflicted.
Around the Web