The bodies of two fishermen, who were tortured and tossed overboard by pirates in Suriname waters on Wednesday, were recovered on Friday and buried immediately because they were in an advanced state of decomposition.
Dead are Nazim Shakim, 28, called "Fineman" of Lot 17 'A' Belvedere Corentyne and "Counsellor" (only name given) of Annandale, East Coast Demerara. Shakim was the captain of the hijacked boat.
According to members from the 15-crew search party, they received a call from a fishing boat on Friday. The captain of the boat who made the call stated that he was seeing men floating in the river.
The bodies washed up on the shore of an area called Double Pole and were already decomposing. They were buried there as the search party was unable to bring them back to Guyana. "Their flesh was loosening up and they were smelling very bad…," the search party members said. "We couldn't a do nothing else but to bury them right there."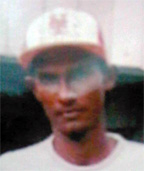 Relatives of both men were in the search party, which also included the surviving fishermen from the hijacked boat, Lakeram Richard, 18, of Number 67 Village, Corentyne; Anthony Joseph Balram, 19, of Number 54 Village and Samuel Hatton, 34, of Annandale, East Coast Demerara.
Shakim's relatives have indicated that they would perform a memorial service.
His mother Vivica Indra Swarswattie told Stabroek News yesterday that her son left home around 8.30 am last week Saturday. On Wednesday, around 5:30 pm a sister-in-law informed her that the boat Shakim was working on was discovered burnt. The teary-eyed mother added on Thursday she left her Belvedere Village home and travelled to the Number 66 Fisheries were her worst fear was confirmed.
Shakim was described as a hard working individual who had been involved in the fishing business since he was the age of 14.
Stabroek News was unable to contact any relatives of "Counsellor".
Hatton, one of the survivors of the attack told this publication that on Tuesday around 7.30 pm, they were on the Caroni water top and he along with the others was picking up their seine. They saw a light approaching them from behind.
Moments later a boat pulled up alongside and they were ordered to go and lie face down in the cabin. "We do as they tell us, and then they tied our hands behind our back with ropes and throw a mattress over us," he explained.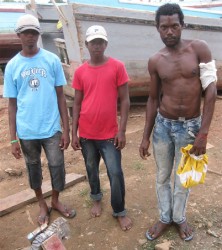 There were five pirates and they asked who the owner of the boat was. When they were told that the boat belonged to Vishnu Persaud, the men claimed that he owed them money. The hijacked fishers were also told that one of them be sent back to Guyana dead as an indication that the pirates are serious about their money.
According to Persaud, he has no enemies nor does he owe anyone. He said persons are more likely to owe him.
Hatton said one of the pirates lit the stove and placed a pot spoon on the fire. When it was heated, the man took it and started to brand them with it.
He said they were tormented until 4 am on Wednesday. When the pirates noticed the place was starting to get bright, they cut off the seine, removed the engine and transferred them to the boat that was used to hijack them.
The pirates then doused the boat with gasoline and set it on fire. As they drove off, they ordered the abducted fishers, one by one, to jump into the river. They were dispatched at different parts of the river.
The three survivors said they consumed a quantity of water, but somehow managed to swim to shore. According Hatton, he took two days to reach to a police station in Suriname.
He said that he gave a statement and found his two other colleagues at the same station.
Hatton returned to Guyana on Thursday morning after he was given a ride by a back-track operator.
Meanwhile, owner of the boat said he is offering $5 million reward to anyone who can provide information on the pirates or anything relating to the attack.
Fishermen at the fisheries yesterday said that both governments should provide coastguards to patrol on the river especially at nights.
In recent times there have several piracy attacks in the Corentyne Berbice area.
Around the Web