Canadian-Guyanese, 31-year-old Ruth Rodney-Grimes, underwent surgery yesterday at the GPHC to remove a bullet from her abdomen while her 67-year-old father-in-law George Grimes is being closely monitored by doctors with two bullets lodged in his body following an armed robbery.
The duo was shot on Saturday evening when three armed bandits invaded their Lot 1853 Nutmeg Street, Festival City, North Ruimveldt home carting off a laptop computer and jewellery .  Rodney-Grimes's husband, Kevin Grimes  suffered a  laceration to his head ,from being gun-butted, while her mother in-law Enid Grimes, is nursing a swollen nose, the result of being elbowed by a robber during the attack .
A friend of the younger Grimes, Dexter Fergus, who was with him on the patio at the time, said "These guys come in and draw their guns. About three or four of them". He stated that they then started lashing him but during the scuffle with Grimes and one of the bandits he made a dash for the back door. He wounded his foot during his escape.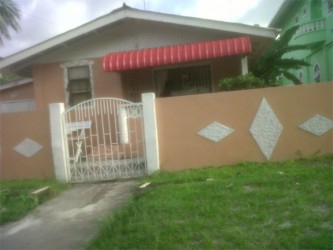 Yesterday, Rodney underwent surgery to remove the bullet from her abdomen and was communicating with several in-laws and friends who flocked the GPHC to see her.
George Grimes was being monitored by nurses in the High Dependency Unit of the GPHC. He has a bullet in his left leg and one in his upper left shoulder. He said that doctors had done several diagnostic tests, including using a digital laparoscopic camera to determine the exact locations of both bullets. However, he was not formally told the reason why the bullets were not removed.
A relative told Stabroek News that shortly after 8pm on Saturday, as Kevin and a friend were on the patio of the residence, three armed men, who all concealed their identity with masks that revealed only their eyes and mouths, entered the yard. Kevin and his friend ran towards the house but were pursued by the gun-toting men. A scuffle ensued between Kevin and one of the men when another began firing shots, hitting his wife and the older Grimes.
By then, neighbours were alerted and this seemed to scare the bandits who made their escape in a silver grey car that was parked a corner away.  Enid Grimes yesterday said that she was still traumatized by the incident but was grateful that none of the injuries to her family was fatal. "It all happened so fast, then the next thing the two of them shot he twice and she one time …this thing has me real shaken up, real shaken up but I thank God they are all alive…it could have been worse," she said.
The elderly woman said that she believed that the robbery was planned as from earlier in the week she had seen a man sitting on a nearby culvert seemingly scouting out the area. She said while she could not remember a face she had a strange feeling about the way the man was watching the area.
Another relative believes that the home may have been targeted given that persons knew that Rodney-Grimes had arrived from Canada two weeks ago and probably believed that they had monies or valuables.
Rodney- Grimes is a practising nurse in Canada while her father in law is employed as a battery technician at a popular battery store.
Police are currently investigating the incident.
Around the Web